Fully Automated Robust System to Detect Retinal Edema, Central Serous Chorioretinopathy, and Age Related Macular Degeneration from Optical Coherence Tomography Images
ABSTRACT
---
Maculopathy is the excessive damage to macula that leads to blindness. It mostly occurs due to retinal edema (RE), central serous chorioretinopathy (CSCR), or age related macular degeneration (ARMD). Optical coherence tomography (OCT) imaging is the latest eye testing technique that can detect these syndromes in early stages. Many researchers have used OCT images to detect retinal abnormalities. However, to the best of our knowledge, no research that presents a fully automated system to detect all of these macular syndromes is reported. This paper presents the world's first ever decision support system to automatically detect RE, CSCR, and ARMD retinal pathologies and healthy retina from OCT images. The automated disease diagnosis in our proposed system is based on multilayered support vector machines (SVM) classifier trained on 40 labeled OCT scans (10 healthy, 10 RE, 10 CSCR, and 10 ARMD). After training, SVM forms an accurate decision about the type of retinal pathology using 9 extracted features. We have tested our proposed system on 2819 OCT scans (1437 healthy, 640 RE, and 742 CSCR) of 502 patients from two different datasets and our proposed system correctly diagnosed 2817/2819 subjects with the accuracy, sensitivity, and specificity ratings of 99.92%, 100%, and 99.86%, respectively.
No MeSH data available.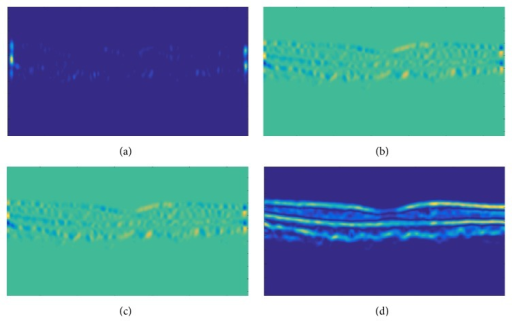 © Copyright Policy
License
getmorefigures.php?uid=PMC5382397&req=5
Mentions: In order to segment retinal pathology from the candidate scan, a second-order structure tensor grid is computed in our proposed system that takes a candidate denoised scan ID(s, t) and generates its partial derivatives at the orientation of 0 and π/2 radians. Since the gradients are computed along two predominant orientations, these gradients are fused together to generate four possible tensors as expressed mathematically in(2)Is,tΓSSs,tΓSTs,tΓTSs,tΓTTs,tΓSSs,t∑si∈ζx ∑tj∈ζjξsi,tjΔSSs−si,t−tjΓSTs,tΓTSs,t=∑si∈ζx ∑tj∈ζjξsi,tjΔSTs−si,t−tjΓTTs,t∑si∈ζx ∑tj∈ζjξsi,tjΔTTs−si,t−tj,where ℑ(s, t) represents a second-order structure tensor matrix containing all possible tensors among two predominant orientations and ΓSS(s, t), ΓST(s, t), ΓTS(s, t), and ΓTT(s, t) represent the convolution sum of gradient products at the respective orientation [28]. The gradient products (ΔSS, ΔST, ΔTS, and ΔTT) are mathematically expressed in(3)ΔSS=IDSSs,t2ΔST=IDSs,t·IDTs,tΔTT=IDTTs,t2.In order to smoothen each tensor within the tensor grid, a localized Gaussian window ξ(s, t) is computed which is convolved with the gradient products. Out of these tensors, a highly coherent tensor is obtained which has the maximum coherency (ℌ). ℌ is computed using(4)H=ℷ1−ℷ2ℷ1+ℷ22,where ℷ1 and ℷ2 represent the eigenvalues of partial derivatives computed along 0 and π/2 radians. The computed tensors are shown in Figure 4.