Understanding the Entanglement: Neutrophil Extracellular Traps (NETs) in Cystic Fibrosis
ABSTRACT
---
Cystic fibrosis (CF) is an autosomal recessive disorder caused by mutations in the gene that codes for the CF trans-membrane conductance regulator. These mutations result in abnormal secretions viscous airways of the lungs, favoring pulmonary infection and inflammation in the middle of neutrophil recruitment. Recently it was described that neutrophils can contribute with disease pathology by extruding large amounts of nuclear material through a mechanism of cell death known as Neutrophil Extracellular Traps (NETs) into the airways of patients with CF. Additionally, NETs production can contribute to airway colonization with bacteria, since they are the microorganisms most frequently found in these patients. In this review, we will discuss the implication of individual or mixed bacterial infections that most often colonize the lung of patients with CF, and the NETs role on the disease.
No MeSH data available.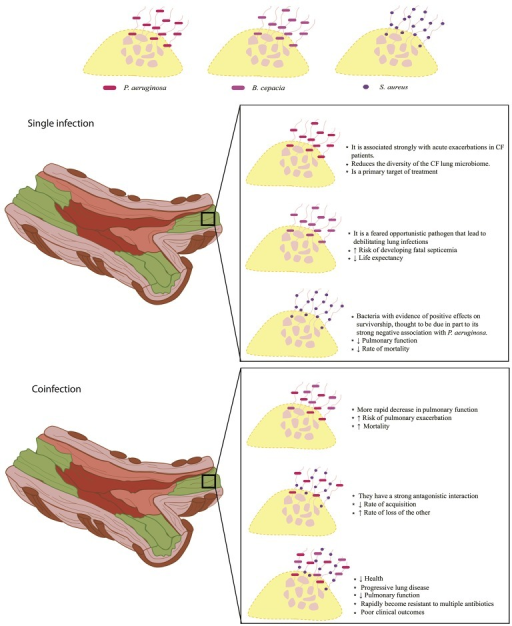 © Copyright Policy
License
getmorefigures.php?uid=PMC5382324&req=5
Mentions: Figure 1 summarizes the information about the effect of mixed or single infections on the CF. P. aeruginosa is considered the main bacterium that affects people with CF, causing chronic lung infections, which leads to high rates of morbidity and mortality, and once the bacteria is established, it is difficult to eradicate it (Winstanley et al., 2016). On the other hand, patients colonized in a chronic manner with B. cepacia present a worse prognosis of the disease, as the use of antibiotics becomes more frequent they also have a greater deterioration of lung function and the rate of mortality is higher compared to that patients colonized by only P. aeruginosa (Gilligan, 2014; Folescu et al., 2015). It has been reported that B. cepacia and P. aeruginosa can form mixed biofilms in the lungs of people with CF, since, P. aeruginosa through its extracellular products can increase the attachment of B. cepacia by modifying the lung epithelial cells on its surface; however, the same does not occur in patients previously colonized with B. cepacia (Saiman et al., 1990). Coinfection between the two bacteria results in a rapid decline in lung function and a high mortality rate (Folescu et al., 2015). In CF the simple colonization by S. aureus is generally considered of better prognosis than those colonized with P. aeruginosa; but in some cases, the presence of small-colony variants (SCV) of S. aureus is associated with the most advanced lung disease in CF, and the phenotype of this bacterium in a coinfection with P. aeruginosa causes disease worsening (Besier et al., 2007; Hubert et al., 2013). In addition, some groups have found that host-pathogen interactions can affect the environment favoring pulmonary disease (Filkins and O'Toole, 2015) and that high levels of inflammation as well as an increase in the accumulation of calprotectin possibly related to NET formation promotes coinfection between P. aeruginosa and S. aureus (Wakeman et al., 2016). Additionally, reports have been published showing that P. aeruginosa, S. aureus, and B. cepacia can cause mixed infections in the respiratory tract of patients with CF; together, lead to pulmonary exacerbations, decreased pulmonary function and destruction of the lung, so the mortality rate is higher compared to simple infections or mixed infections with two different bacteria (Zemanick et al., 2011).