Effective Visual Tracking Using Multi-Block and Scale Space Based on Kernelized Correlation Filters
ABSTRACT
---
Accurate scale estimation and occlusion handling is a challenging problem in visual tracking. Recently, correlation filter-based trackers have shown impressive results in terms of accuracy, robustness, and speed. However, the model is not robust to scale variation and occlusion. In this paper, we address the problems associated with scale variation and occlusion by employing a scale space filter and multi-block scheme based on a kernelized correlation filter (KCF) tracker. Furthermore, we develop a more robust algorithm using an appearance update model that approximates the change of state of occlusion and deformation. In particular, an adaptive update scheme is presented to make each process robust. The experimental results demonstrate that the proposed method outperformed 29 state-of-the-art trackers on 100 challenging sequences. Specifically, the results obtained with the proposed scheme were improved by 8% and 18% compared to those of the KCF tracker for 49 occlusion and 64 scale variation sequences, respectively. Therefore, the proposed tracker can be a robust and useful tool for object tracking when occlusion and scale variation are involved.
No MeSH data available.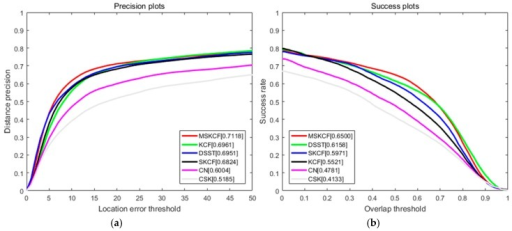 © Copyright Policy - open-access
License
getmorefigures.php?uid=PMC5375719&req=5
Mentions: The proposed algorithm is compared with the following correlation filter-based trackers and OTB trackers. Correlation filter-based trackers include CSK [18], CN [19], DSST [15], KCF [16], and SKCF that is the same as the KCF tracker except for applying only the scale space. The results we obtained by testing the precision, CLE, and VOR score on 100 sequences of OTB are presented in Table 1. The proposed method provided the improved results compared to other algorithms. We observed 4% improvement on the VOR score compared to DSST and a 10% increase compared to KCF. Figure 5 shows the graphical results from both the correlation filter-based and OTB trackers. As for OTB trackers, we tested the ASLA [40], BSBT [41], CPF [42], CT [43], CXT [44], DFT [45], FRAG [5], IVT [1], KMS [46], LOT [47], MIL [13], MS [48], OAB [9], PD [48], RS [48], SCM [49], STRUCK [12], TM [48], VTD [3], and VTS [50]. Including PCOM [2] where partial occlusion was used as the target, we compared our proposed method with a total of 29 trackers, and as can be seen in Figure 5 and Figure 6, Table 1 and Table 2, the proposed method showed the most promising results. In terms of speed, CSK, which only used intensity features, was the fastest followed by KCF and CN. We discovered that the proposed method was more time consuming due to its need for additional scale estimation and the multi-block method. However, since the proposed method is based on the correlation filter, it continues to be faster than all of the other latest trackers.