A RLS-SVM Aided Fusion Methodology for INS during GPS Outages
ABSTRACT
---
In order to maintain a relatively high accuracy of navigation performance during global positioning system (GPS) outages, a novel robust least squares support vector machine (LS-SVM)-aided fusion methodology is explored to provide the pseudo-GPS position information for the inertial navigation system (INS). The relationship between the yaw, specific force, velocity, and the position increment is modeled. Rather than share the same weight in the traditional LS-SVM, the proposed algorithm allocates various weights for different data, which makes the system immune to the outliers. Field test data was collected to evaluate the proposed algorithm. The comparison results indicate that the proposed algorithm can effectively provide position corrections for standalone INS during the 300 s GPS outage, which outperforms the traditional LS-SVM method. Historical information is also involved to better represent the vehicle dynamics.
No MeSH data available.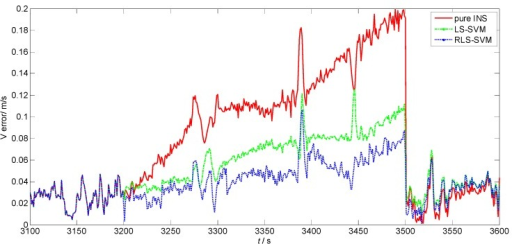 © Copyright Policy - open-access
License
getmorefigures.php?uid=PMC5375718&req=5
Mentions: Both the LS-SVM algorithm and the pure INS are compared with the RLS-SVM method to evaluate its performance. As the altitude damping method is employed by the system, only horizontal errors are involved to make a judgment. Figure 3 and Figure 4 present velocity errors and position errors among different algorithms from 3100 s to 3600 s, respectively. Before 3200 s, the GPS signal is still available and the whole system is in the loosely-coupled mode, where the three methods show the same navigation result. From 3200 s to 3500 s, the GPS is unavailable. The performance of the three methods varies. The red lines in both figures indicate the navigation results of the pure INS mode, while the green dashed lines and blue dotted lines denote the performance of the LS-SVM and RLS-SVM algorithms, respectively. It can be seen that the proposed RLS-SVM method outperforms the LS-SVM method, which is much better than the pure INS mode. The velocity and position accuracy of all the three navigation solutions deteriorates with time during the GPS outage. At 3500 s, the horizontal velocity errors of the pure INS, LS-SVM and RLS-SVM are 0.198 m/s, 0.1115 m/s, and 0.0869 m/s, while the position errors are 33.26 m, 16.72 m, and 12.72 m, respectively. We can see that during the GPS outage, the proposed algorithm achieves good performance when the vehicle operates in this irregular trajectory. The LS-SVM algorithm, which suffers from the GPS outliers, cannot reach the best model to predict the position increments. At the end of the GPS outage, the velocity and position errors of the RLS-SVM algorithm are only about 40% of the pure INS method and 75% of the LS-SVM method.