A RLS-SVM Aided Fusion Methodology for INS during GPS Outages
ABSTRACT
---
In order to maintain a relatively high accuracy of navigation performance during global positioning system (GPS) outages, a novel robust least squares support vector machine (LS-SVM)-aided fusion methodology is explored to provide the pseudo-GPS position information for the inertial navigation system (INS). The relationship between the yaw, specific force, velocity, and the position increment is modeled. Rather than share the same weight in the traditional LS-SVM, the proposed algorithm allocates various weights for different data, which makes the system immune to the outliers. Field test data was collected to evaluate the proposed algorithm. The comparison results indicate that the proposed algorithm can effectively provide position corrections for standalone INS during the 300 s GPS outage, which outperforms the traditional LS-SVM method. Historical information is also involved to better represent the vehicle dynamics.
No MeSH data available.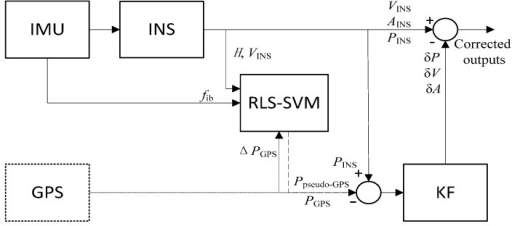 © Copyright Policy - open-access
License
getmorefigures.php?uid=PMC5375718&req=5
Mentions: Figure 1 illustrates the configuration of the RLS-SVM aided INS/GPS integrated navigation system. The dotted lines shows the integration process when GPS is available, while the dash lines indicate the information fusion procedure during the GPS outages. The other parts work all of the time. P, V, and A are position, velocity, and attitude, respectively, and δ indicates the error. When GPS data is available, the whole system is in a loosely-coupled mode and the RLS-SVM module is in the training mode. The outputs of INS and GPS are integrated by KF, where the attitude, velocity, and position errors are estimated as a correction to the hybrid system. Meanwhile, the specific force, velocity, and yaw information is sent to the RLS-SVM module as the inputs, while the increments of the GPS position are given as the expected outputs. Since the expected outputs only contain the GPS information, the RLS-SVM can easily figure out the outliers. When GPS is unavailable, the specific force, velocity, and yaw information is still provided for the RLS-SVM module and a prediction of the increments of GPS position can be obtained. After the integral, the pseudo-GPS position information could be achieved, which is then used as the input of the KF to form the observation vector with the INS position. The hybrid system will continuously give the integrated information during the GPS outages.