Fiber Bragg Grating Sensors for the Oil Industry
ABSTRACT
---
With the oil and gas industry growing rapidly, increasing the yield and profit require advances in technology for cost-effective production in key areas of reservoir exploration and in oil-well production-management. In this paper we review our group's research into fiber Bragg gratings (FBGs) and their applications in the oil industry, especially in the well-logging field. FBG sensors used for seismic exploration in the oil and gas industry need to be capable of measuring multiple physical parameters such as temperature, pressure, and acoustic waves in a hostile environment. This application requires that the FBG sensors display high sensitivity over the broad vibration frequency range of 5 Hz to 2.5 kHz, which contains the important geological information. We report the incorporation of mechanical transducers in the FBG sensors to enable enhance the sensors' amplitude and frequency response. Whenever the FBG sensors are working within a well, they must withstand high temperatures and high pressures, up to 175 °C and 40 Mpa or more. We use femtosecond laser side-illumination to ensure that the FBGs themselves have the high temperature resistance up to 1100 °C. Using FBG sensors combined with suitable metal transducers, we have experimentally realized high- temperature and pressure measurements up to 400 °C and 100 Mpa. We introduce a novel technology of ultrasonic imaging of seismic physical models using FBG sensors, which is superior to conventional seismic exploration methods. Compared with piezoelectric transducers, FBG ultrasonic sensors demonstrate superior sensitivity, more compact structure, improved spatial resolution, high stability and immunity to electromagnetic interference (EMI). In the last section, we present a case study of a well-logging field to demonstrate the utility of FBG sensors in the oil and gas industry.
No MeSH data available.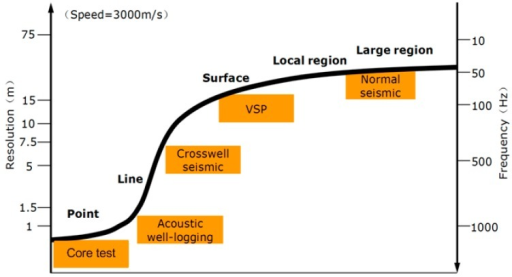 © Copyright Policy - open-access
License
getmorefigures.php?uid=PMC5375715&req=5
Mentions: The detection and measurement of vibration is crucial for oil and gas seismic exploration. Recently, fiber-optic vibration (or, equivalently, acceleration) sensors have received more attention than their electrical counterparts because of their inherent superiority, as described above [84,85,86,87,88,89,90,91,92,93,94,95,96]. In particular, FBG accelerometers have undergone rapid development and have established themselves as the leading technology, compared to other fiber sensor technologies. In order to increase vibration sensitivity and response frequency of FBGs, the gratings are frequently coupled to mechanical components such as special elastic material layers, plate-beams and flat circular diaphragms. In these sensors, the detection of vibration information is achieved through the wavelength interrogation of FBGs. Of course, the intensity of reflection spectrum can also be used to monitor vibration by employing side-band filtering techniques [97,98,99]. These sensors provide high dynamic strain sensitivity and realize the compensation of temperature over a full range. However, problems such as the power disturbance of light in the sensing system, and multiplexing capability, will require further work. For oil well exploration, the seismic waves cover a frequency bandwidth from several dozens to hundreds of Hz [100,101,102], as shown in Figure 1.