Polyhedral Oligomeric Silsesquioxane (POSS)-Containing Polymer Nanocomposites
ABSTRACT
---
Hybrid materials with superior structural and functional properties can be obtained by incorporating nanofillers into polymer matrices. Polyhedral oligomeric silsesquioxane (POSS) nanoparticles have attracted much attention recently due to their nanometer size, the ease of which these particles can be incorporated into polymeric materials and the unique capability to reinforce polymers. We review here the state of POSS-containing polymer nanocomposites. We discuss the influence of the incorporation of POSS into polymer matrices via chemical cross-linking or physical blending on the structure of nanocomposites, as affected by surface functional groups, and the POSS concentration.
No MeSH data available.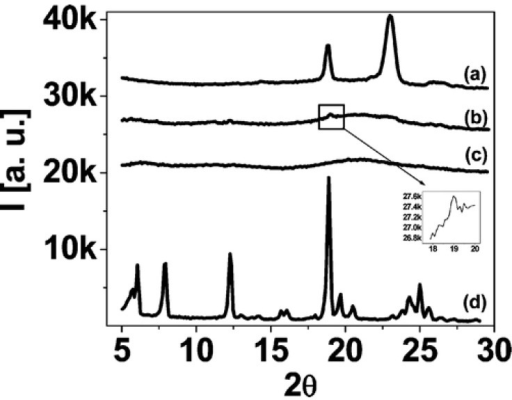 © Copyright Policy
License
getmorefigures.php?uid=PMC5304604&req=5
Mentions: Well-studied PEO-poly(propylene oxide)-PEO (PEO-PPO-PEO) block copolymers, known as Pluronics, are known for their versatile commercial applications. These block copolymers self-assemble into micelles [71] and various ordered nanostructures [72,73,74,75] in the presence of selective solvents. However, PEO-PPO-PEO block copolymer melts do not self-assemble because of a lack of a sufficient degree of PEO-PPO block segregation. Hydrogen bond interactions can serve as a tool for tuning self-assembly of PEO-PPO-PEO block copolymers. Daga et al. [76] showed that functionalized small molecules form hydrogen bonds with the PEO blocks of Pluronic block copolymers, inducing microphase segregation and, subsequently, resulting in the formation of well-ordered morphologies. Moreover, PEO-PPO-PEO block copolymers possess poor mechanical properties because of their low molecular weights. Incorporation of POSS nanoparticles (having a surface functional group that is capable of hydrogen formation) can simultaneously impart both order, as well as functional properties (such as mechanical strength). Recently, the influence of octamaleamic acid or octaaminophenyl-functionalized POSS (OAA-POSS or OAP-POSS) on the structure of Pluronic P105 (EO37PO56EO37) and Pluronic F108 (EO132PO50EO132) has been reported [77]. Both octamaleamic acid and octaaminophenyl are capable of forming hydrogen bonds with the PEO blocks. As a result of the incorporation of OAA-POSS or OAP-POSS into the polymer matrix, PEO-PPO-PEO block copolymers self-assembled into various ordered nanostructures, such as spherical, cylindrical and lamellar. Differential scanning calorimetry and X-ray diffraction (XRD) revealed good mixing of the additives within the PEO phase of the hybrid. Figure 5 compares the XRD profiles of pure Pluronic F108 and pure OAA-POSS with Pluronic F108/OAA-POSS at 50 wt.% and 70 wt.% POSS loadings [77]. Pure Pluronic F108 showed a crystalline structure resulting from the formation of PEO crystallites, while pure OAA-POSS revealed multiple peaks, an indication that crystallization occurred. After blending Pluronic F108 and OAA-POSS, the peaks observed in the neat OAA-POSS completely disappeared, suggesting molecular dispersion of OAA-POSS in the PEO phase. At 50% loading, the intensity of the peaks corresponding to PEO crystallites of neat Pluronic F108 significantly diminished in intensity, although a low intensity peak was still visible at a 2θ value of ~18. The peaks were invisible at 70 wt.% loading, suggesting complete inhibition of PEO crystallization. This implies good mixing, as the PEO and OAA-POSS inhibit each other's crystallization associated with hydrogen bonding, rather than self-association by crystallization. The OAA ligand enabled a higher level of incorporation of the POSS particles into the PEO phase than the OAP ligand. In Pluronic F108 block copolymer strong order was maintained up to 40 wt.% and 80 wt.% of OAP-POSS and OAA-POSS loadings, respectively. OAA-POSS interacts more strongly with PEO relative to OAP-POSS, explaining the higher levels of POSS incorporation [77]. Mesoporous silica with spherical and cylindrical morphologies were obtained upon heating followed by calcination of the F108/OAA-POSS hybrid at 50 wt.% and 70 wt.% POSS loadings.