Simultaneous Patterning of Independent Metal/Metal Oxide Multi-Layer Films Using Two-Tone Photo-Acid Generating Compound Systems
ABSTRACT
---
(1) The photo-induced solubility and positive-tone direct photo-patterning of iron, copper and lanthanides chelated with 4-(2-nitrobenzyloxycarbonyl)catechol (NBOC) or 4-(6-nitroveratryloxycarbonyl)catechol (NVOC) was investigated. Photo-patterning of iron, copper, cerium, samarium, europium, terbium, dysprosium, holmium, erbium and lutetium complexes was accomplished. Continuous films were formed by the pyrolysis of metal complex films at 500 °C. (2) Based on the difference in the photo-reaction excitation wavelength profile of NBOC and NVOC complexes, a short and simple method for simultaneous micro-patterning of two independent films on each side of a transparent glass substrate was developed. Using the developed procedure, indium tin oxide and/or titanium oxide films were formed on each side of a quartz substrate without use of resist or etching.
No MeSH data available.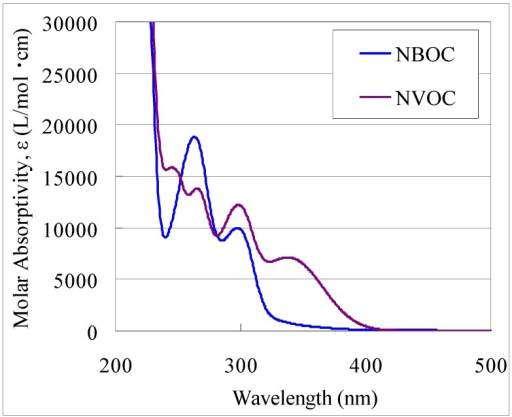 © Copyright Policy
License
getmorefigures.php?uid=PMC5304597&req=5
Mentions: Depending on the photo-reactive group, the photoreaction excitation wavelength profile varies. As described, compared to NBOC, the NVOC photoreaction wavelength profile extends to 400 nm from 350 nm (Figure 2). Reviews of photo-acid releasing groups that can be considered for this technique have been published [8,9,10,11,12]. Reaction of NVOC titanium complex under exposure through a short wavelength sharp cut filter (half intensity at 390 nm) has been shown to occur selectively, whereas the NBOC titanium complex didn't significantly react under this condition [4]. Variation of the photoreaction excitation wavelength profile can be manipulated, introducing unique attributes that may be further utilized for the development of new devices and fabrication techniques. For instance, an additional dimension can be introduced to patterning by the introduction of color tone to the metal complex direct photo-patterning technique. In many instances, as in thin-film transistor displays and capacitive type multi-touch screens, multi-layered devices are composed of different patterned metal oxides that perform various functions. In these situations, the applied materials often differ in thickness and in etching characteristics and require individual construction taking care not to affect existing structures. For example, the etching rates and conditions of ITO and TiO2 are not similar although in the previously reported method [4], once exposed both precursors had been patterned under similar developing conditions, independent of film material and thickness. In this work, a simultaneous patterning process was developed for construction of independent metal oxide components on opposite surfaces (both sides) of a transparent substrate, independent of deposited film thickness or etching characteristics. This was accomplished through contriving a two-tone patterning technique; it was based on the finding that in the 1 or 2 metal complex patterning technique, developing characteristics are almost metal element independent. Almost all 1 or 2 metal complexes are (or can be engineered to be) developed in dilute TMAH within 30 s. Analysis of the pattern generation ability of the 1 or 2 iron, copper or lanthanide complexes in which the same developing conditions were used further exemplifies this aspect.