Rafts, Nanoparticles and Neural Disease
ABSTRACT
---
This review examines the role of membrane rafts in neural disease as a rationale for drug targeting utilizing lipid-based nanoparticles. The article begins with an overview of methodological issues involving the existence, sizes, and lifetimes of rafts, and then examines raft function in the etiologies of three major neural diseases—epilepsy, Parkinson's disease, and Alzheimer's disease—selected as promising candidates for raft-based therapeutics. Raft-targeting drug delivery systems involving liposomes and solid lipid nanoparticles are then examined in detail.
No MeSH data available.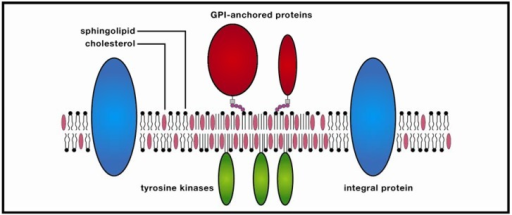 © Copyright Policy
License
getmorefigures.php?uid=PMC5304588&req=5
Mentions: In addressing this explanatory impasse, it is useful to remember that ~3 billion years of cellular evolution have selected for a heterogeneous, compartmentalized, and functionally differentiated plasma membrane that mediates between external and internal inputs at a broad spectrum of time and space scales (Figure 1). The evolutionary picture is consistent with a highly optimized, poised system in dynamic equilibrium capable of rapidly shifting from nanodomains to rafts (i.e., from ~10 to ~200 nm) in response to fluctuating local conditions [32]. The molecular basis of the system is the nonconformability of the cholesterol sterol structure with the rigid double bond of unsaturated lipids and the projecting amino-acid side chains of transmembrane proteins. These structural nonconformabilities induce the energetically more favorable exclusion of cholesterol from proteins and unsaturated lipids, resulting in cholesterol-enriched and protein-enriched domains. In the cholesterol-enriched region, glycosphingolipids and sphingomyelin are rarely present in sufficient concentrations to create large, stable rafts; as a consequence, the region is dominated by nanodomains. Could these nanodomains be functional? An intriguing hypothesis, proposed by Anderson and Jacobson [33], is that thermodynamically stable, cholesterol-enriched "lipid shells" ~7 nm in diameter and comprised of ~80 lipid molecules encase a transmembrane protein and reduce its buoyant density, thereby increasing its affinity for sphingolipid-cholesterol rafts. In defense of their model, they cite an extensive body of literature documenting the lipid-binding properties of several integral and peripheral membrane proteins (e.g., caveolin-1, synaptophysin, NAP22, MARCKS, prion). In an important variation of this viewpoint, proposed by Fantini and Barrantes [34], lipid shells do not merely surround a protein; they influence its conformation. This possibility was initially suggested by a search for structural motifs involved in the interaction of human immunodeficiency virus-1 (HIV-1) and amyloid proteins with sphingolipids, and was later extended to other proteins via structural similarity searches supported by crystallographic data. These studies indicated a possible sphingolipid binding domain (SBD) for protein ligands, of which the critical functional feature is the π-electron cloud of an aromatic ring. In an unusual form of H bonding, the aromatic ring electrostatically interacts with the partial positive charge of a sphingolipid galactose ring, inducing interfacial alignment. Subsequent sphingolipid-protein interactions (possibly also involving cholesterol) alter the protein's conformation, preparing it to bind with a peripheral or integral protein.