Myeloid sarcoma: a report of four cases at unusual sites
ABSTRACT
---
Background:: Myeloid sarcoma (MS) or granulocytic sarcoma is a rare tumor consisting of myeloid blasts with or without maturation occurring at anatomic sites other than the bone marrow. MS can involve any organ system but shows a predilection for skin, bone, and soft tissues of head and neck region.
Case report:: We report four cases of MS occurring at unusual sites, out of which three were de novo and one was associated with acute myeloid leukemia (AML).
Conclusion:: Although MS is associated with AML, it can rarely present without any existent hematologic disease. Differential diagnosis of a soft tissue mass should include MS even in the absence of leukemia. Establishment of the correct diagnosis depends on morphologic, histochemical, and immunohistochemical examination.
No MeSH data available.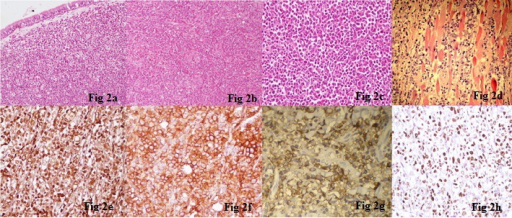 © Copyright Policy - open-access
License
getmorefigures.php?uid=PMC5304564&req=5
Mentions: A 38-year-old male presented with complaint of gradually progressive, left sided nasal obstruction for the last three months. Subsequently there was loss of vision in the left eye. General physical and systemic examination was unremarkable. On anterior rhinoscopy, an irregular, firm mass was seen in the left nasal cavity. Hematologic profile revealed anemia (hemoglobin = 10.4 g/dl), leucocytosis (TLC = 15,000/µl) and marked eosinophilia (absolute eosinophil count = 11,550). Computed tomography (CT) scan showed an intranasal mass involving the bilateral ethmoid sinuses with destruction of the ethmoid septae and the medial wall of the left orbit along with an extension into the inferior extraconal compartment of the left orbit and superior displacement of the left eye ball (Figure 1 (Fig. 1)). A clinical diagnosis of nasopharyngeal carcinoma was made. Biopsy from the mass showed a tumor in the sub-epithelial region invading the underlying bone. The tumor comprised variable cell population of eosinophils, neutrophils, segmented cells, and myeloid precursors admixed with large, atypical cells with hyperchromatic nuclei and prominent nucleoli (Figure 2a (Fig. 2)). Differential diagnoses included nasopharyngeal carcinoma, Hodgkin lymphoma, non-Hodgkin lymphoma (NHL), malignant melanoma, and MS. Immunohistochemistry for CK, EMA, LCA, CD3, CD20, CD30, S-100, HMB-45, CD117, MPO, and CD43 was performed for characterization of the atypical cells. Immunostaining for MPO (Figure 2e (Fig. 2)), CD43 (Figure 2f (Fig. 2)) and CD117 (Figure 2g (Fig. 2)) was strongly positive in the large cells; while all the other markers were negative. A diagnosis of MS was given. High Ki-67 labeling index was observed (Figure 2h (Fig. 2)).