Subserosal hematoma of the sigmoid colon after vaginal delivery
ABSTRACT
---
Postpartum hemorrhage is an obstetrical emergency that represents the leading cause of maternal mortality. Severe hemorrhagic complications that could appear postpartum are the abdomino-pelvic hematomas, which result from the rupture of the pelvic vessels. We reported a very rare case of puerperal retroperitoneal subserosal hematoma of sigmoid colon following vaginal delivery, which was successfully managed by conservative methods. As far as we know, there are only a few case reports of intramural hematoma of sigmoid colon in literature, having other etiologies than vaginal delivery trauma. The particularities of the case consisted in the association of hemangiomas and the low risk thrombophilia. Diagnosis was based on the clinical exam and the paraclinical founding. Laparotomy is generally considered the last choice, in life threatening cases with hemodynamic instability, compression signs, and presence of contrast leakage on noninvasive imaging methods, but avoiding colonic resection after dissection represented the true challenge of the case.
No MeSH data available.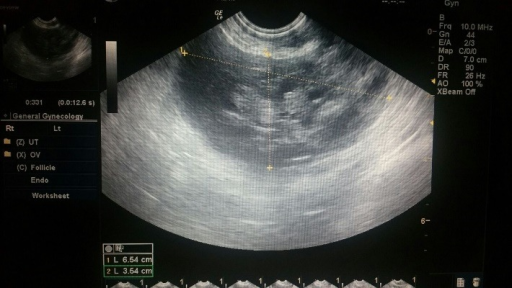 © Copyright Policy - open-access
License
getmorefigures.php?uid=PMC5304379&req=5
Mentions: A 27-year-old woman (gravida 1, para 1) was admitted to the labor unit of our hospital due to the spontaneous rupture of the membranes and painful uterine and regular contractions at 40 weeks' gestation. The course of the present pregnancy was uneventful, with insignificant family medical history and without personal pathological antecedents except for hemangiomas, located at the level of the liver and superior lip, chronic constipation, and homozygous mutation of PAI genes, detected after a first trimester screening, that revealed a high resistance in the uterine artery flow, followed by low-dose Aspirin administration until 36 weeks of gestation. Clinical exam revealed a 3 cm dilatation locally, cranial applied presentation with loss of opalescent amniotic fluid. Paraclinical, on admission, the value of hemoglobin was 13.2 g/ dl, white blood cells count 14.02*103/ µl and normal parameters of coagulation with no signs of genital or urinary tract infection. Labor progressed relatively precipitated, the patient spontaneously delivering a 3300 grams boy with the 1-minute Apgar score 10, within 3 hours and 30 minutes. A third (3a) degree perineal rupture resulted in moderate vaginal bleeding. The placenta was completely delivered with minimal blood loss. After the suture of the perineal rupture and the provided hemostasis, the patient presented a good general condition and a normally contracted uterus with no abnormal blood loss. Two hours after the delivery, the patient complained of severe pelvic and low abdominal pain, palpitations, sweating, and tachycardia. On examination, the teguments appeared pale, the uterus well contracted with no excessive vaginal bleeding. On palpation, the abdomen was soft, without any signs of peritoneal irritation, but vaginally posterior and proximal; a tender formation was palpable ascending the cervix. The presence of the palpable hypoechogenic perirectal 6,5/ 3,5cm structure was objectified on ultrasound, suggesting the diagnosis of perirectal hematoma (Fig. 1).