Testicular activin and follistatin levels are elevated during the course of experimental autoimmune epididymo – orchitis in mice
ABSTRACT
---
Experimental autoimmune epididymo-orchitis (EAEO) is a model of chronic inflammation, induced by immunisation with testicular antigens, which reproduces the pathology of some types of human infertility. Activins A and B regulate spermatogenesis and steroidogenesis, but are also pro-inflammatory, pro-fibrotic cytokines. Expression of the activins and their endogenous antagonists, inhibin and follistatin, was examined in murine EAEO. Adult untreated and adjuvant-treated control mice showed no pathology. All mice immunised with testis antigens developed EAEO by 50 days, characterised by loss of germ cells, immune cell infiltration and fibrosis in the testis, similar to biopsies from human inflamed testis. An increase of total CD45+ leukocytes, comprising CD3+ T cells, CD4 + CD8− and CD4 + CD25+ T cells, and a novel population of CD4 + CD8+ double positive T cells was also detected in EAEO testes. This was accompanied by increased expression of TNF, MCP-1 and IL-10. Activin A and B and follistatin protein levels were elevated in EAEO testes, with peak activin expression during the active phase of the disease, whereas mRNA expression of the inhibin B subunits (Inha and Inhbb) and activin receptor subunits (Acvr1b and Acvr2b) were downregulated. These data suggest that activin–follistatin regulation may play a role during the development of EAEO.
No MeSH data available.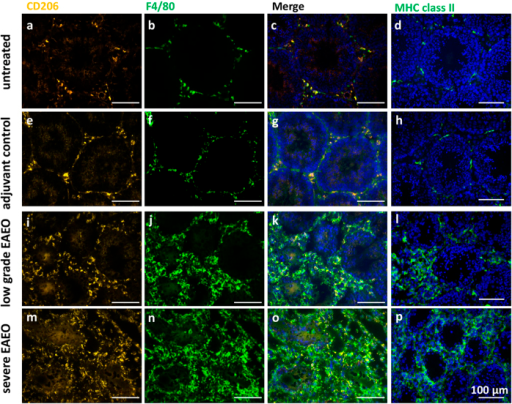 © Copyright Policy - open-access
License
getmorefigures.php?uid=PMC5304336&req=5
Mentions: Although not quantified, immunofluorescence analysis data suggest that the number of cells positive for either F4/80 or CD206, i.e. macrophages, were considerably more prominent in EAEO testes (Fig. 3). In untreated mouse testis, relatively fewer macrophages were found throughout the interstitial space (Fig. 3c). Notably, the majority of these cells were double positive for F4/80 and CD206 indicating that the testicular resident macrophages have an M2 anti-inflammatory phenotype (Fig. 3a,b). A similar distribution of the testicular macrophages was also observed in adjuvant control testis (Fig. 3g). However, it seemed that adjuvant treatment alone led to a slight increase in the number of macrophages as compared to untreated controls. In contrast, in low grade EAEO testis, an accumulation of co-localised F4/80 and CD206-positive cells with increased numbers of F4/80-positive only cells (Fig. 3k) was observed, mainly in the areas where the diameter of the seminiferous tubules was reduced. This accumulation of F4/80-positive only cells was evident in severe EAEO (Fig. 3n) at 50 days after the first immunisation, suggesting that many infiltrating macrophages possess a pro-inflammatory M1 phenotype. In EAEO testis, 30 days after first immunisation, the accumulation of macrophages was less dramatic compared to 50 days EAEO testis and the majority of the macrophage population was double positive for F4/80 and CD206 (Supplementary Fig. S2), indicating an M2-like phenotype. Moreover, the expression of MHC class II molecules responsible for presenting antigenic peptides to CD4+ lymphocytes in normal and inflamed testis was assessed. In normal and adjuvant control testes, MHC class II positive cells were found in low numbers between the tubular basement membrane of adjacent tubules and in the interstitial space (Fig. 3d,h). In contrast, the number of MHC class II positive cells was strongly increased in low grade and severe EAEO testes, mainly in the areas of lymphocytic infiltrates and around damaged seminiferous tubules (Fig. 3l,p). The staining pattern of MHC class II in inflamed testis was very similar to the F4/80 expression pattern (Supplementary Fig. S3). Interestingly, CD206 positive cells in the normal testis did not express MHC class II molecules, whereas in EAEO testes the expression was present (Supplementary Fig. S4). The immunofluorescence data was supported by quantitative RT-PCR showing significantly elevated levels of H2-Ab1 (MHC class II) mRNA in EAEO testis 50 and 80 days after first immunisation as compared to control animals (Supplementary Fig. S5).