Rapid differentiation of human pluripotent stem cells into functional neurons by mRNAs encoding transcription factors
ABSTRACT
---
Efficient differentiation of human pluripotent stem cells (hPSCs) into neurons is paramount for disease modeling, drug screening, and cell transplantation therapy in regenerative medicine. In this manuscript, we report the capability of five transcription factors (TFs) toward this aim: NEUROG1, NEUROG2, NEUROG3, NEUROD1, and NEUROD2. In contrast to previous methods that have shortcomings in their speed and efficiency, a cocktail of these TFs as synthetic mRNAs can differentiate hPSCs into neurons in 7 days, judged by calcium imaging and electrophysiology. They exhibit motor neuron phenotypes based on immunostaining. These results indicate the establishment of a novel method for rapid, efficient, and footprint-free differentiation of functional neurons from hPSCs.
No MeSH data available.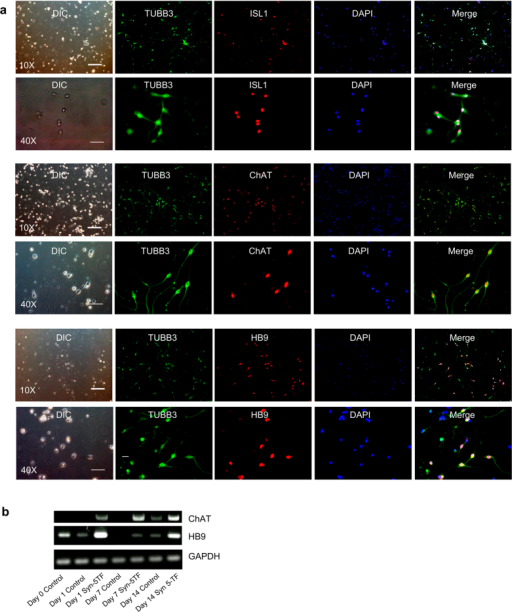 © Copyright Policy - open-access
License
getmorefigures.php?uid=PMC5304326&req=5
Mentions: Next, we characterized the neuronal subtypes specified by the syn-5TFs cocktail. The expression of markers associated with the motor neuron phenotype started to appear by Day 7 and became apparent by Day 10 when functional neurons were obtained. By Day 7, iPS-derived neurons stained positively for the canonical motor neuron markers ISL1, choline acetyl transferase (ChAT), and motor neuron and pancreas homeobox protein 1 (also known as HB9) (Fig. 6a). Quantitative immunocytochemistry revealed that almost all the TUBB3-positive neuronal cells were stained positively for HB9 (94.3% ± 4.2 [mean ± SD], three independent experiments, n = 3), ChAT (97.7% ± 2.28 [mean ± SD], n = 3), and ISL1 (100% ± 0 [mean ± SD], n = 2), indicating a high efficiency of differentiation toward motor neuron subtype. Reverse-transcription-PCR analysis revealed the induction of the motor neuron markers ISL1, HB9, and ChAT as early as 24 hours after transfection, suggesting that these genes might be direct targets of the syn-5TFs cocktail. By Day 7 and Day 14, the expression of these markers became apparent (Fig. 6b). Quantitative reverse transcription PCR of motor neuron associated genes showed enhancement of expression of MN-marker genes ISL1, HB9, ChAT and CHT-1, a high affinity choline transporter gene, during the course differentiation of iPS cells (Supplementary Figure S5). These results support earlier observations that NGNs can specify the motor neuron lineage7182526.