Flavichalasines A – M, cytochalasan alkaloids from Aspergillus flavipes
ABSTRACT
---
12356131421215614614: Two new tetracyclic cytochalasans, flavichalasines A and B ( and ), three new pentacyclic cytochalasans, flavichalasines C–E (–), and eight new tricyclic cytochalasans, flavichalasines F–M (–), together with eight known analogues (–), were isolated from the solid culture of Aspergillus flavipes. Structures of these new compounds were elucidated on the basis of extensive spectroscopic analyses including 1D, 2D NMR and HRESIMS data. Their absolute configurations were determined by comparison of their experimental ECD with either computed ECD or experimental ECD spectrum of known compound. The structure and absolute configuration of were further determined by X-ray crystallographic diffraction. Flavichalasine A () represents the first example of cytochalasan with a terminal double bond at the macrocyclic ring and flavichalasine E () is the only cytochalasan with an α-oriented oxygen-bridge in D ring. These new compounds were evaluated for their cytotoxic activities against seven human cancer cell lines, of which, and displayed moderate inhibitory activities against tested cell lines. In addition, compounds and induced apoptosis of HL60 cells by activation of caspase-3 and degradation of PARP.
No MeSH data available.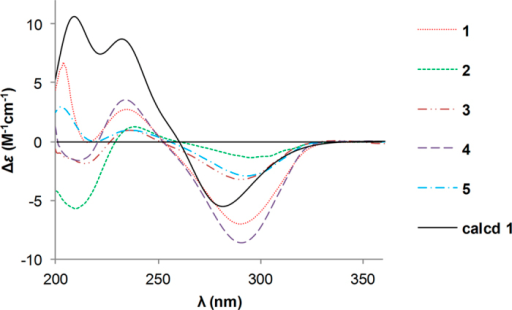 © Copyright Policy - open-access
License
getmorefigures.php?uid=PMC5304325&req=5
Mentions: Comparison of its 1H and 13C NMR data (Tables 1 and 2) with those of aspergillin PZ (21)26 indicated that 1 possessed a similar planar structure with that of 21, except for the presence of an additional carbonyl, a terminal double bond, and a hydroxyl group in the former, instead of a methyl group and two oxygen-bridged sp3 carbons. Detailed analyses of 1H–1H COSY and HMBC spectra of 1 revealed that it has the same carbon rings as 21. The cleavage of the oxygen-bridge and further oxidation at C-18 (δC 211.4, carbonyl) and C-25 (δC 115.7; δH 5.08 and 4.79, CH2) of 1 was determined by HMBC correlations from H-17 and H-19 to C-18 and from H-25 to C-13, C-14, and C-15 (Fig. 2). Moreover, the hydroxylation at C-20 was revealed by its chemical shifts (δC 74.5; δH 5.19, CH) and HMBC correlations from H-20 to C-18 and C-21. The NOESY (Fig. 3) correlation between H-8 and H-19 indicated their cofacial and β-orientations. Consequently, H-13 was determined to be α-oriented by its splitting pattern and large coupling constants (t, J = 11.7 Hz) with H-8 and H-19, suggesting a trans-fused C/D rings of 1. Inaddition, NOESY correlations from H-17 and H-20 to H-13, together with the large coupling constants between H-19 and H-20 (J = 11.7 Hz), revealed that they were also α-oriented. Thus, the relative configuration of 1 was finally determined. It is noteworthy that compound 1 is the first cytochalasan with a terminal double bond at the macrocyclic ring. The absolute configuration of 1 was established by ECD calculation (Fig. 4), and the calculated ECD spectrum of 1 was comparable with that of the experimental ECD curve of 1.