Clinical results of biologic prosthesis: A systematic review and meta-analysis of comparative studies
ABSTRACT
---
Background: Biologic prosthesis (BP) has been reported as a safe alternative to polytetrafluoroethylene (PTFE) in vascular reconstruction. However, efficacy of BP remains controversial. We, therefore, conducted a systematic review to summarize previous available evidences comparing the BP and PTFE in terms of clinical outcomes.
Materials and methods: A literature search of the MEDLINE and Scopus was performed to identify comparative studies reporting outcomes of BP, PTFE, and/or autologous veins graft (VG) in vascular access for hemodialysis or femoropopliteal bypass. The outcome of interest was graft patency. Two reviewers independently extracted data. Meta-analysis with a random-effect model was applied to pool a risk ratio (RR) across studies.
Results: Among 584 articles identified, 11 studies (4 randomized controlled trials (RCT) and 7 cohorts) comprising 2627 patients were eligible for pooling. Seven studies compared BP with PTFE and 3 studies compared PTFE with VG. Among BP vs PTFE, pooling based on 3 RCTs yielded the pooled RR of 1.54 (95% CI: 1.10, 2.16), indicating 54% higher graft patency in VG than PTFE. Adding the 7 cohorts in this pooling yield similar results with the pooled RR of 1.29 (95% CI: 1.15, 1.45). The pooled RR of graft patency for BP vs VG was 0.74 (95% CI, 0.55, 1.00), indicating 26% lower graft patency in BP than VG.
Conclusions: Our first meta-analysis indicated that the biosynthetic prosthesis might be benefit over PTFE by increasing graft patency. An updated meta-analysis or a large scale randomized control trial is required to confirm this benefit.
No MeSH data available.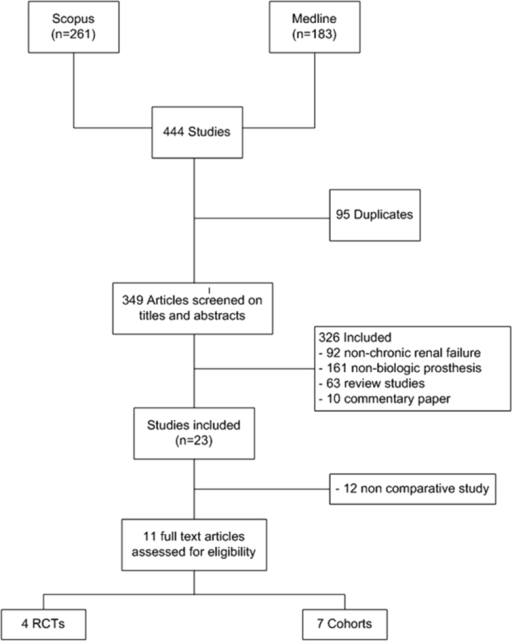 © Copyright Policy - CC BY-NC-ND
License
getmorefigures.php?uid=PMC5304244&req=5
Mentions: A flow diagram of the study selection process is shown in Fig. 1. The initial literature search identified 183 and 261 studies from PubMed and Scopus databases, respectively. Among these 444 studies, 95 studies were duplicates, leaving 349 studies for title or abstract review. After reviewing, 326 studies were ineligible leaving 23 studies for review full articles. Among 23, 12 studies were not comparative studies, leaving 11 studies with a total of 2627 patients available for extraction and analysis. Agreement for selection of studies and data extractions between the two reviewers were 92·2% ((kappa = 0.92, p < 0.001) and 93.9% (kappa = 0.93, p < 0.001) for outcomes. Characteristics of the 11 included studies are described in Table 1[4], [5], [6], [7], [8], [9], [10], [11], [12], [13], [14]. Among them, 4 studies were randomized RCTs [5], [6], [11], [12] whereas 7 studies were cohorts [4], [7], [8], [9], [10], [13], [14]. Most of the studies were from the European countries(7/11). Five studies used biologic prosthesis (human umbilical vein and bovine mesenteric vein) while 6 studies used biosynthetic prosthesis [4], [5], [6], [7], [8], [9], [10], [11], [12], [13], [14]. Seven studies compared BP with PTFE [4], [7], [8], [9], [10], [13], [14] and 3 studies compared PTFE with VG [4], [7], [10].