Rapid prototyping of all-solution-processed multi-lengthscale electrodes using polymer-induced thin film wrinkling
ABSTRACT
---
Three-dimensional electrodes that are controllable over multiple lengthscales are very important for use in bioanalytical systems that integrate solid-phase devices with solution-phase samples. Here we present a fabrication method based on all-solution-processing and thin film wrinkling using smart polymers that is ideal for rapid prototyping of tunable three-dimensional electrodes and is extendable to large volume manufacturing. Although all-solution-processing is an attractive alternative to vapor-based techniques for low-cost manufacturing of electrodes, it often results in films suffering from low conductivity and poor substrate adhesion. These limitations are addressed here by using a smart polymer to create a conformal layer of overlapping wrinkles on the substrate to shorten the current path and embed the conductor onto the polymer layer. The structural evolution of these wrinkled electrodes, deposited by electroless deposition onto a nanoparticle seed layer, is studied at varying deposition times to understand its effects on structural parameters such as porosity, wrinkle wavelength and height. Furthermore, the effect of structural parameters on functional properties such as electro-active surface area and surface-enhanced Raman scattering is investigated. It is found that wrinkling of electroless-deposited thin films can be used to reduce sheet resistance, increase surface area, and enhance the surface-enhanced Raman scattering signal.
No MeSH data available.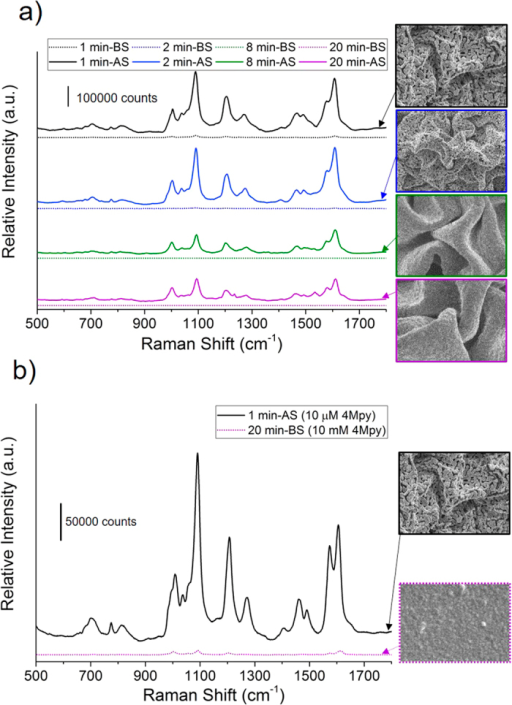 © Copyright Policy - open-access
License
getmorefigures.php?uid=PMC5304207&req=5
Mentions: In addition to their role as electrodes, nanostructured metal films play an important role as substrates for enabling surface enhanced Raman spectroscopy (SERS)3738. Due to the presence of nano-gaps, sharp edges, and sharp corners on nanostructured noble metal substrates, very large electromagnetic (EM) fields can be produced by exciting the surface plasmon resonance at the surfaces of substrates with light394041. As a proof-of-concept SERS sensor, Au films at different electroless deposition durations (1 min, 2 min, 8 min, and 20 min) were applied as substrates for the sensing of 4-mercaptopyridine (4 Mpy), and the spectra were measured before and after shrinking (Fig. 3a). The 4 Mpy is incubated on the before shrinking substrates, and it is evident from the SERS spectra that the intensity of spectral features becomes larger after shrinking. This can be attributed to the sharp Au film features that are produced through the wrinkling process, as well as the increase in the surface density of the analyte as the device footprint is reduced. Although the wrinkling enhances the Raman signal for all four deposition durations, the enhancement is more significant for the continuous films (8 min and 20 min), where statistically significant peaks are only evident after wrinkling, and likely due to the creation of EM hot spots. On the other hand, the porous films have nanostructures that can contribute to the Raman signal enhancement even prior to wrinkling, as evidenced by the detectible peaks in their before shrinking spectra. The wrinkled 1 min and 2 min devices show higher intensity spectra (2.5 to 3.3 times larger) compared to the wrinkled continuous films (8 min and 20 min) after shrinking, likely due to the high density of pores and nano-gaps within the wrinkled film that could be attributed to the EM field enhancement and their higher surface areas. Due to the very low peaks (not statistically different than the background noise) of the continuous planar films, the enhancement factor of the porous wrinkled films compared to planar gold films was determined by comparing 1 min substrates after shrinking incubated with 10 μM 4 Mpy against 20 min substrates before shrinking incubated with 10 mM 4 Mpy (Fig. 3b). The 1090 cm−1 peak associated with ring stretching/breathing and C-S stretching was used to calculate the enhancement factor (equation in Experimental Section). The 1 min and wrinkled substrates were able to enhance the signal over planar Au devices (20 min-BS) by 4.24 × 104. Accounting for the larger surface area of the 1 min wrinkled device over the planar device, the enhancement in the Raman signal, discounting the role of analyte concentration, is 8.54 × 103. Evidently, the structural tunability of these all-solution-processed metallic films allows them to be extended to applications where nanostructuring and high surface area are crucial to sensor performance.