Local melting to design strong and plastically deformable bulk metallic glass composites
ABSTRACT
---
Recently, CuZr-based bulk metallic glass (BMG) composites reinforced by the TRIP (transformation-induced plasticity) effect have been explored in attempt to accomplish an optimal of trade-off between strength and ductility. However, the design of such BMG composites with advanced mechanical properties still remains a big challenge for materials engineering. In this work, we proposed a technique of instantaneously and locally arc-melting BMG plate to artificially induce the precipitation of B2 crystals in the glassy matrix and then to tune mechanical properties. Through adjusting local melting process parameters (i.e. input powers, local melting positions, and distances between the electrode and amorphous plate), the size, volume fraction, and distribution of B2 crystals were well tailored and the corresponding formation mechanism was clearly clarified. The resultant BMG composites exhibit large compressive plasticity and high strength together with obvious work-hardening ability. This compelling approach could be of great significance for the steady development of metastable CuZr-based alloys with excellent mechanical properties.
No MeSH data available.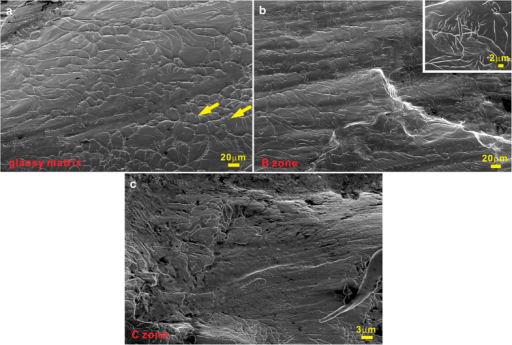 © Copyright Policy - open-access
License
getmorefigures.php?uid=PMC5304197&req=5
Mentions: The deformed samples exhibit different and complicated fracture angles depending on the local melting treatment and volume fraction of crystallites (Fig. 4b–d). There are also some common fracture features observed in different samples (Figs 5 and 6). First of all, there are multiple shear bands in the glassy matrix (Fig. 5b), being similar to those in BMGs composites reported in Refs 4,5,7,8,12, 13, 14, 15, 16, 17, 18, 19, 20. Some finer and closely woven shear bands and martensitic plates can be observed in the heat-affected zone B (Figs 4b–d and 5b), further confirming the existence of amorphous phase as discussed above. For the molten zone A, obvious martensitic plates are observed, indicating the occurrence of martensitic transformation upon loading (Fig. 5c)4578121314151617181920. It has been shown that the elastic energy stored in a BMG sample - testing machine system is mainly consumed by the initiation and propagation of shear bands during deformation44. For CuZr-based BMG composites, the martensitic transformation can also dissipate a part of the stored elastic energy45 in the form of heat and the newly-generated interfacial free energy etc. Therefore, during plastic deformation of CuZr-based BMG composites, the total dissipated elastic energy by shear bands would be decreased. Furthermore, compared with BMGs, it becomes easier for multiple shear bands to form at the interface between the crystals and the glassy matrix in the BMG composites due to their large elastic mismatch46 (see Figs 3(b) and 5(c)). Based on the conservation of energy for the sample-machine system, even though the shear bands can operate more easily, less elastic energy would be consumed for the subsequent propagation of multiple shear bands. Besides, a certain amount of B2 CuZr crystals which locate at the driven path of the dominant shear band could directly block the rapid propagation of the dominant shear band to some extent. As a result, an enhancement of the shear banding stability of BMG composites can be reached.