Vascular smooth muscle cell glycocalyx mediates shear stress-induced contractile responses via a Rho kinase (ROCK)-myosin light chain phosphatase (MLCP) pathway
ABSTRACT
---
The vascular smooth muscle cells (VSMCs) are exposed to interstitial flow induced shear stress that may be sensed by the surface glycocalyx, a surface layer composed primarily of proteoglycans and glycoproteins, to mediate cell contraction during the myogenic response. We, therefore, attempted to elucidate the signal pathway of the glycocalyx mechanotransduction in shear stress regulated SMC contraction. Human umbilical vein SMCs (HUVSMCs) deprived of serum for 3–4 days were exposed to a step increase (0 to 20 dyn/cm2) in shear stress in a parallel plate flow chamber, and reduction in the cell area was quantified as contraction. The expressions of Rho kinase (ROCK) and its downstream signal molecules, the myosin-binding subunit of myosin phosphatase (MYPT) and the myosin light chain 2 (MLC2), were evaluated. Results showed that the exposure of HUVSMCs to shear stress for 30 min induced cell contraction significantly, which was accompanied by ROCK1 up-regulation, re-distribution, as well as MYPT1 and MLC activation. However, these shear induced phenomenon could be completely abolished by heparinase III or Y-27632 pre-treatment. These results indicate shear stress induced VSMC contraction was mediated by cell surface glycocalyx via a ROCK-MLC phosphatase (MLCP) pathway, providing evidence of the glycocalyx mechanotransduction in myogenic response.
No MeSH data available.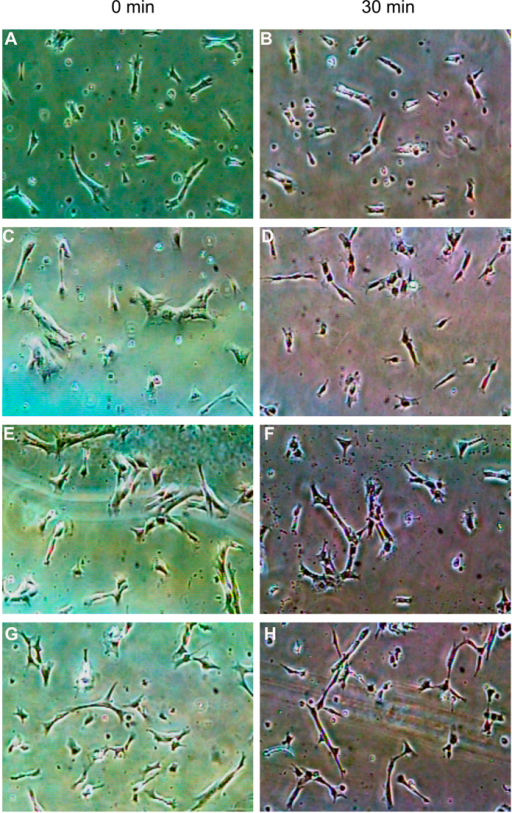 © Copyright Policy - open-access
License
getmorefigures.php?uid=PMC5304191&req=5
Mentions: Figure 4 illustrates a representative video image of HUVSMCs exposed to static or 20 dyn/cm2 shear stress. The images were taken under × 4 magnification. The morphology of HUVSMCs starved for 3–4 days before experiments showed some extent of contraction (Fig. 4A and C), and the contraction became more significantly after 30 min-shear stress exposure (Fig. 4D). The area distribution analysis of 100–300 HUVSMCs deprived of serum for 3–4 days, as shown in Fig. 5A, indicated that the initial areas of about 46.0% cells were ranged from 2000 to 4000 μm2, the areas of 24.2% cells were smaller than 2000 μm2 (<2000), 17.6% cells have the area between 4000 and 6000 μm2, only 12.2% cells whose areas were larger than 6000 μm2. After 30 min-shear stress exposure, the percent of cells with areas <2000 μm2 was increased about 50% (time 0: 24.2 ± 2.2% vs. time 30 min: 75.0 ± 4.0%, P < 0.05), and the cells with areas ranged within 2000–4000 μm2, 4000–6000 μm2, or >6000 μm2 were decreased respectively (Fig. 5A). For the static condition, Cells showed no significant area reduction during the 30-min recording time (Figs 4B and 5B). On the other hand, cells pre-incubated with 0.2 U/ml Hep.III or 10 μM Y-27632 became a little slimmer than the untreated cells (Fig. 4E and G). Area analysis indicated the number of cells with initial areas smaller than 2000 μm2 was increased about respectively 13.7% (Hep.III treatment) and 13.1% (Y-27632 treatment) relative to the untreated cells, and shear stress cannot induce significant cell contraction as observed in untreated control cells (Figs 4F,H and 5C,D). Cell area reduction in Fig. 6A illustrated that the exposure of HUVSMCs to 20 dyn/cm2 shear stress for 30 min reduced the cell area to 0.46 ± 0.06 fold as compared to the original value (time 0), which is significantly different from the cell area reduction of the static (0.86 ± 0.05 fold), Hep.III (0.76 ± 0.05 fold), and Y-27632 (1.03 ± 0.09 fold) treatment groups. Moreover, the shape factor analysis indicated that there is a significant reduction in the aspect ratio of HUVSMCs exposed to 20 dyn/cm2 shear stress for 30 min (0 min: 3.90 ± 0.22 vs. 30 min: 2.60 ± 0.16, P < 0.01), while this significant reduction disappeared after Hep.III (0 min: 4.18 ± 0.36 vs. 30 min: 3.66 ± 0.24, P > 0.24) or Y-27632 (0 min: 4.30 ± 0.30 vs. 30 min: 4.34 ± 0.29, P > 0.93) pre-incubation (Fig. 6B).