Dynamic properties of calcium-activated chloride currents in Xenopus laevis oocytes
ABSTRACT
---
Chloride is the most abundant permeable anion in the cell, and numerous studies in the last two decades highlight the great importance and broad physiological role of chloride currents mediated anion transport. They participate in a multiplicity of key processes, as for instance, the regulation of electrical excitability, apoptosis, cell cycle, epithelial secretion and neuronal excitability. In addition, dysfunction of Cl− channels is involved in a variety of human diseases such as epilepsy, osteoporosis and different cancer types. Historically, chloride channels have been of less interest than the cation channels. In fact, there seems to be practically no quantitative studies of the dynamics of chloride currents. Here, for the first time, we have quantitatively studied experimental calcium-activated chloride fluxes belonging to Xenopus laevis oocytes, and the main results show that the experimental Cl− currents present an informational structure characterized by highly organized data sequences, long-term memory properties and inherent "crossover" dynamics in which persistent correlations arise at short time intervals, while anti-persistent behaviors become dominant in long time intervals. Our work sheds some light on the understanding of the informational properties of ion currents, a key element to elucidate the physiological functional coupling with the integrative dynamics of metabolic processes.
No MeSH data available.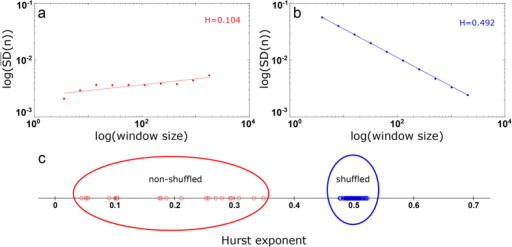 © Copyright Policy - open-access
License
getmorefigures.php?uid=PMC5304176&req=5
Mentions: Figure 5a illustrates the regression lines of a bdSWV process applied to an example of experimental series giving H = 0.104 (experiment 5, n13, pH = 5.0), which indicates a strong anti-persistent memory. After randomly permuting all the 130,000 points contained in this time series n13, the Dispersion Analysis gave H = 0.492, which indicates a breakdown for the long-term memory (Fig. 5b). In Fig. 5c, we represent 100 Hurst exponent values corresponding to 100 shuffled series, obtained from shuffling the experimental data. It can be observed that, after shuffling, the long-term memory disappears completely in all the time series ( = 0.498 ± 0.01). For illustration purposes, Fig. 5c shows, rather than the 21,000 obtained values of Hurst exponent, only 100 of them. The informational memory structures in all shuffled series were completely broken-down, and therefore, the memory structure that characterizes the experimental data could not be found by chance. Finally, in order to calculate the values of Hurst exponent from short data periods, we used the Detrended Fluctuation Analysis (DFA), because the bdSWV is recommended for data sizes greater than 212, whilst for data sets with less than 28 points bdSWV has been shown to be unreliable43. The DFA analysis showed that for time periods ranging between 2 and 5 seconds all the experimental time series exhibit persistent behavior with H > 0.5 being the global mean of  = 0.697 ± 0.11, which indicates that the properties of persistent memory dominate at short time intervals of the calcium-activated chloride currents in Xenopus laevis oocytes.