Superior adsorption and photoinduced carries transfer behaviors of dandelion-shaped Bi 2 S 3 @MoS 2 : experiments and theory
ABSTRACT
---
The enhanced light-harvesting capacity and effective separation of photogenerated carriers in fantastic hierarchical heterostructures enjoy striking attention for potential applications in the field of solar cells and photocatalysis. A three-dimensional (3D) dandelion-shaped hierarchical Bi2S3 microsphere compactly decorated with wing-shaped few layered MoS2 lamella (D-BM) was fabricated via a facile hydrothermal self-assembly process. Especially, polyethylene glycol (PEG) has been proven as the vital template to form D-BM microsphere. Importantly, the as-prepared D-BM microsphere presents pH-dependent superior adsorption behavior and remarkable visible light photocatalytic activity for degradation of organic dyestuffs (Rhodamine B/RhB and Methylene blue/MB), far exceeding those for the pure Bi2S3 and MoS2. It is understandable that D-BM with high surface area possesses more active sites and promotes light utilization due to the unique porous structure with outspread wings. Besides, based on the experiments and theoretical calculations, the staggered type II band alignment of D-BM permits the charge injection from Bi2S3 to MoS2, subsequently accelerates the separation and restrains the recombination of carriers, leading to excellent photocatalytic activity, as well as the photoconductance and photoresponse performance (with Ilight/Idark ratio 567).
No MeSH data available.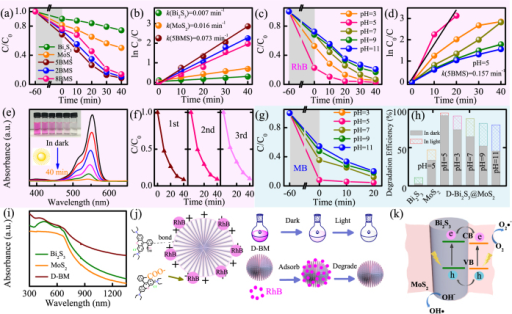 © Copyright Policy - open-access
License
getmorefigures.php?uid=PMC5304175&req=5
Mentions: To demonstrate the photocatalytic ability of the D-BM heterostructures, photodegradation of RhB in aqueous solution has been investigated under visible-light irradiation. In Fig. 7a, at pH = 7, the corresponding decomposition rate of bare Bi2S3 (26%) and MoS2 (50%) are indistinctive after 40 min. Whereas, when the MoS2 was introduced to Bi2S3, the decomposition rate significantly increases to near 92%. The time-dependent absorption spectra of RhB solutions by D-BM and others were shown in Fig. 7e and Fig. S6. It could conclude that the hierarchical D-BM structure owns outstanding photocatalytic performance than two others. As it has been proposed by Daage, the "rim-edge" mode of MoS2 have massive dege active sites, where strong interaction occurs with dye molecules515253. Also, these ultrathin and wrinkled surfaces of MoS2 may lead to several internal intersections, which make it possible to bring much more effective area for absorption. Likewise, it is favoring to transfer excited carries between MoS2 and Bi2S3 heterostructure, leading to reduce the recombination efficiency and prolong the lifetime of carries. In addition, the photocatalytic activity can also be related to the amount of the coated MoS2 nanosheets, which highlights the optimization of 5 MBS. As for 2 MBS samples, fewer MoS2 nanosheets cannot provide enough multiplex refraction for the incident path, as well as the more active site for the adsorption of reactant molecules. On the other hand, 8 MBS samples with superabundant MoS2 nanosheets impeded the transformation of photogenerated carries in reverse, thus facilitating their recombination. To make a more specific comparison, the reaction kinetics of all catalysts have been linear fitted as ln (C0/C) = kt according to Landmuir-Hinshelwood mechanism shown in Fig. 7b 545556. Note that C and C0 are the real-time concentrations and initial concentration of RhB, t and k denote the irradiation time and the overall photodegradation rate constant, respectively. The rate constant of pristine Bi2S3 and MoS2 are 0.007 and 0.016 min−1. Nevertheless, a dramatic improvement (0.073 min−1) of 5 MBS can be achieved. Specifically, the increased reaction rates were attributed to the unique porous structure, with faster mass transport and more accessible active sites, resulting in an increased reaction rate. The stability and reusability of the composites (sample 5 MBS at pH = 7) also have been evaluated under irradiation by collecting and reusing them over 3 cycles. As shown in Fig. 7f, the insignificant decline in photocatalytic activity after three runs (90%) confirms the stability of the catalysts, excepting the incomplete collection. The constancy can be recognized through the XRD result after photocatalytic tests (Fig. S7).