Responses of spatial-temporal dynamics of bacterioplankton community to large-scale reservoir operation: a case study in the Three Gorges Reservoir, China
ABSTRACT
---
Large rivers are commonly regulated by damming, yet the effects of such disruption on bacterioplankton community structures have not been adequately studied. The aim of this study was to explore the biogeographical patterns present under dam regulation and to uncover the major drivers structuring bacterioplankton communities. Bacterioplankton assemblages in the Three Gorges Reservoir (TGR) were analyzed using Illumina Miseq sequencing by comparing seven sites located within the TGR before and after impoundment. This approach revealed ecological and spatial-temporal variations in bacterioplankton community composition along the longitudinal axis. The community was dynamic and dominated by Proteobacteria and Actinobacteria phyla, encompassing 39.26% and 37.14% of all sequences, respectively, followed by Bacteroidetes (8.67%) and Cyanobacteria (3.90%). The Shannon-Wiener index of the bacterioplankton community in the flood season (August) was generally higher than that in the impoundment season (November). Principal Component Analysis of the bacterioplankton community compositions showed separation between different seasons and sampling sites. Results of the relationship between bacterioplankton community compositions and environmental variables highlighted that ecological processes of element cycling and large dam disturbances are of prime importance in driving the assemblages of riverine bacterioplankton communities.
No MeSH data available.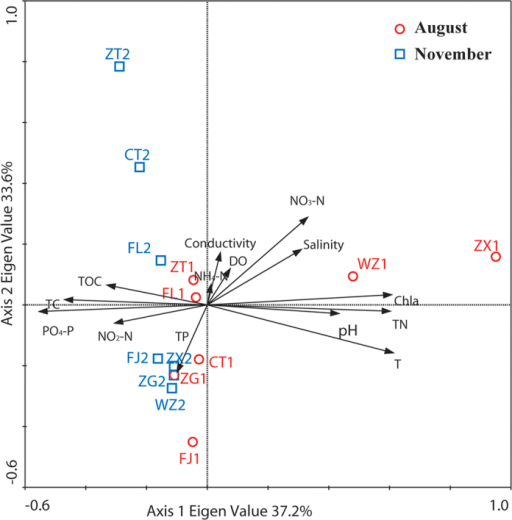 © Copyright Policy - open-access
License
getmorefigures.php?uid=PMC5304162&req=5
Mentions: To further determine the environmental variables associated with changes in bacterioplankton community structure, redundancy analysis (RDA) was performed with contextual parameters that significantly explained variations in bacterioplankton fingerprints. The first two axes explained up to 37.2% of RDA 1 and 33.6% of RDA 2 of the total variation in bacterial community structure (Fig. 7). The environmental variables, referenced in Table 1, were comprised of DO, TC, Chl a, pH, conductivity, phosphate phosphorus (PO4-P), nitrite nitrogen (NO2-N), nitrate nitrogen (NO3-N), ammonium nitrogen (NH4-N), salinity, water pH and temperature. Of all the environmental factors investigated, Chl a appeared to have the most significant influence on bacterioplankton community assemblages. Most variances can be explained by water temperature, Chl a, PO4-P, TC and TN. There is a positive association of Axis 1 with water temperature, pH, Chl a and TN and a negative association of Axis 1 with TC, TOC, PO4-P and NO2-N. Water temperature, pH, Chl a and TN explained 13.5%, 12.8%, 11.3%, 9.8% and 7.2% of the variation in the bacterioplankton community, respectively. The partial RDA model statistically explained 38.6% of the variation (P < 0.05) in the bacterioplankton community composition (Table 4). The variation shared by significant factors was 16.0%.