Dynamics of male meiotic recombination frequency during plant development using Fluorescent Tagged Lines in Arabidopsis thaliana
ABSTRACT
---
Meiotic homologous recombination plays a central role in creating genetic variability, making it an essential biological process relevant to evolution and crop breeding. In this study, we used pollen-specific fluorescent tagged lines (FTLs) to measure male meiotic recombination frequency during the development of Arabidopsis thaliana. Interestingly, a subset of pollen grains consistently shows loss of fluorescence expression in tested lines. Using nine independent FTL intervals, the spatio-temporal dynamics of male recombination frequency was assessed during plant development, considering both shoot type and plant age as independent parameters. In most genomic intervals assayed, male meiotic recombination frequency is highly consistent during plant development, showing no significant change between different shoot types and during plant aging. However, in some genomic regions, such as I1a and I5a, a small but significant effect of either developmental position or plant age were observed, indicating that the meiotic CO frequency in those intervals varies during plant development. Furthermore, from an overall view of all nine genomic intervals assayed, both primary and tertiary shoots show a similar dynamics of increasing recombination frequency during development, while secondary and lateral shoots remain highly stable. Our results provide new insights in the dynamics of male meiotic recombination frequency during plant development.
No MeSH data available.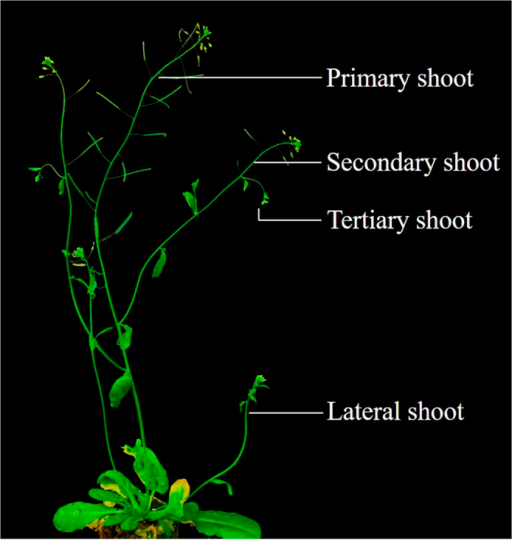 © Copyright Policy - open-access
License
getmorefigures.php?uid=PMC5304153&req=5
Mentions: In Arabidopsis, meiotic recombination frequency varies during plant development16. Pollen tetrad analysis in the genomic intervals I1a and I3a revealed that crossover frequency in the second and third branches are significantly higher than that of the main shoot, which indicates that developmental position can affect crossover frequencies during male gametogenesis10. In addition, a whole-genome level study of meiotic CO frequency in Arabidopsis thaliana revealed that aging affects CO frequency during megaspore formation (increased 29.86%), but not during pollen formation17. By analyzing the data of main and lateral shoots, it was indicated that this age effect correlates to the developmental age of each shoot rather than that of the whole plant17. In Arabidopsis, flowers develop on different shoot types, such as primary shoot, secondary shoot, tertiary shoot and lateral shoot (Fig. 1), in which meiotic recombination occurs independently. Up till now, only for interval I1a and I3a, the developmental position was shown to have a significant effect on the meiotic CO frequency10. However, in general, there is no clear insight into whether there exists variability in the male meiotic CO frequency during plant aging and shoot development. In this study, we use nine independent FTLs intervals (I1a, I1b, I2a, I2b, I3c, CEN3, I5a, I5c and I5d) to measure the spatio-temporal dynamics of male CO frequency in flowers isolated from primary, secondary, tertiary and lateral shoots, in order to provide an extensive overview of the spatio-temporal dynamics of male meiotic recombination frequency in the genomic intervals delineated by a set of widely used pollen FTL markers.