Transient Dysregulation of Dopamine Signaling in a Developing Drosophila Arousal Circuit Permanently Impairs Behavioral Responsiveness in Adults
ABSTRACT
---
The dopamine ontogeny hypothesis for schizophrenia proposes that transient dysregulation of the dopaminergic system during brain development increases the likelihood of this disorder in adulthood. To test this hypothesis in a high-throughput animal model, we have transiently manipulated dopamine signaling in the developing fruit fly Drosophila melanogaster and examined behavioral responsiveness in adult flies. We found that either a transient increase of dopamine neuron activity or a transient decrease of dopamine receptor expression during fly brain development permanently impairs behavioral responsiveness in adults. A screen for impaired responsiveness revealed sleep-promoting neurons in the central brain as likely postsynaptic dopamine targets modulating these behavioral effects. Transient dopamine receptor knockdown during development in a restricted set of ~20 sleep-promoting neurons recapitulated the dopamine ontogeny phenotype, by permanently reducing responsiveness in adult animals. This suggests that disorders involving impaired behavioral responsiveness might result from defective ontogeny of sleep/wake circuits.
No MeSH data available.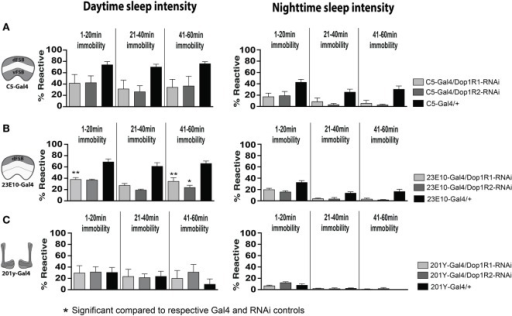 © Copyright Policy
License
getmorefigures.php?uid=PMC5304146&req=5
Mentions: Since the dFB neurons have been intimately linked with sleep-homeostatic regulation (e.g., sleep duration) rather than behavioral responsiveness, we then examined whether transient D1 knockdown in these neurons (C5-Gal4, 23E10-Gal4) altered sleep duration in adult flies. Interestingly, sleep duration was not significantly (P > 0.05, Tukey's) changed compared to genetic controls, although there was a trend to increased sleep (Figures 7C,D, black bars). Consistent with our other results, sleep intensity was increased during the day when D1 knockdown was restricted to the dFB (23E10: day, F(14, 69) = 9.721; 1–20 min, Dop1R1, P < 0.01; 41–60 min, Dop1R1, P < 0.01, Dop1R2, P < 0.05) (Figures 8A,B), but not when restricted to the MB (Figure 8C). No significant effects for nighttime sleep intensity were found. This again shows that the developmental manipulation permanently alters behavioral responsiveness, even when restricted to D1 receptor function in a subset of sleep-promoting neurons. Indeed, throughout our study, behavioral responsiveness appears to be much more sensitive to developmental manipulations than sleep duration, whether as a consequence of transient DA activation or transient DA receptor knockdown.