Transient Dysregulation of Dopamine Signaling in a Developing Drosophila Arousal Circuit Permanently Impairs Behavioral Responsiveness in Adults
ABSTRACT
---
The dopamine ontogeny hypothesis for schizophrenia proposes that transient dysregulation of the dopaminergic system during brain development increases the likelihood of this disorder in adulthood. To test this hypothesis in a high-throughput animal model, we have transiently manipulated dopamine signaling in the developing fruit fly Drosophila melanogaster and examined behavioral responsiveness in adult flies. We found that either a transient increase of dopamine neuron activity or a transient decrease of dopamine receptor expression during fly brain development permanently impairs behavioral responsiveness in adults. A screen for impaired responsiveness revealed sleep-promoting neurons in the central brain as likely postsynaptic dopamine targets modulating these behavioral effects. Transient dopamine receptor knockdown during development in a restricted set of ~20 sleep-promoting neurons recapitulated the dopamine ontogeny phenotype, by permanently reducing responsiveness in adult animals. This suggests that disorders involving impaired behavioral responsiveness might result from defective ontogeny of sleep/wake circuits.
No MeSH data available.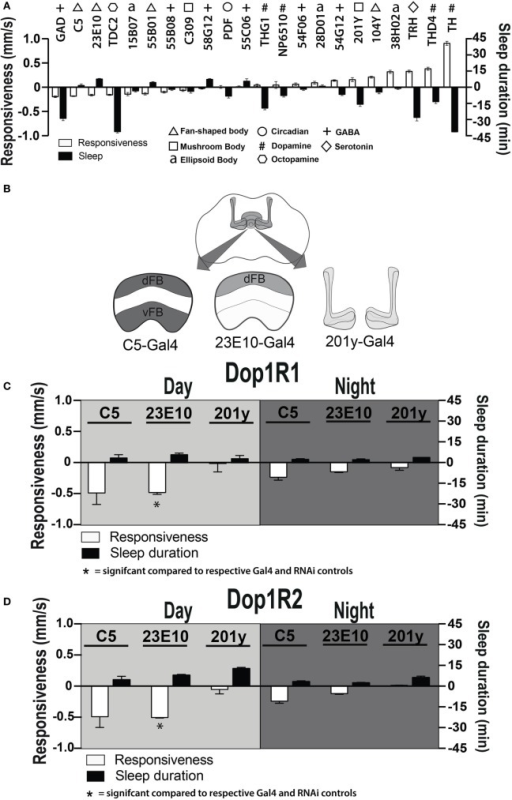 © Copyright Policy
License
getmorefigures.php?uid=PMC5304146&req=5
Mentions: Dopamine has been found to act as an inhibitory neuromodulator in Drosophila when acting via D1 receptors (36, 37). Downregulation of D1 receptor function could thus cause persistently increased activity in specific neurons targeted by dopamine, thereby potentially explaining the altered responsiveness phenotypes that we have uncovered. To explore which postsynaptic circuits might be involved, we increased neuronal activity during development (38) in several circuits throughout the Drosophila brain and looked for circuits that decreased behavioral responsiveness in adults (Figure 7A, white bars), with a goal to uncover activated circuits that might mimic our developmental D1 knockdown effects (Figure 6B). We also measured sleep duration in these strains (Figure 7A, black bars). Six out of 22 activated circuits significantly decreased responsiveness to the mechanical stimulus (P < 0.001, t-test), notably GABA via Gad-Gal4 (39). That GABA activation decreases responsiveness is not surprising, since it is an inhibitory neurotransmitter, although the correlated decrease in sleep duration was unexpected (Figure 7A). Of the next five circuits that significantly decreased behavioral responsiveness, three of them drive expression of proteins in the dorsal fan-shaped body (dFB) of the central complex: C5-Gal4, GR23E10-Gal4, and GR55B01-Gal4 (Figure 7A, triangles). Neurons in the dFB have been described as sleep-promoting neurons (36, 40), and indeed constitutively activating two of these drivers (GR23E10-Gal4 and GR55B01-Gal4) also significantly increased sleep duration in adult flies (P < 0.001 and P < 0.01, respectively, by t-test). Interestingly, activating wake-promoting dopaminergic neurons (Th-Gal4) had exactly the opposite effect from the sleep-promoting neurons, by dramatically decreasing sleep and increasing responsiveness (P < 0.001, t-test) (Figure 7A, #). Activation of a DA sub-cluster that targets the dFB (THD4-Gal4) (24) had the same effect as Th-Gal4 (Figure 7A, #). Together, these results support the view that this sleep/wake circuit (i.e., dopaminergic input to the dFB) modulates behavioral responsiveness in addition to its predicted effects on sleep duration. These results suggest a postsynaptic locus for our original ontogenetic effects on behavioral responsiveness, namely in the sleep-promoting neurons of the dFB.