Transient Dysregulation of Dopamine Signaling in a Developing Drosophila Arousal Circuit Permanently Impairs Behavioral Responsiveness in Adults
ABSTRACT
---
The dopamine ontogeny hypothesis for schizophrenia proposes that transient dysregulation of the dopaminergic system during brain development increases the likelihood of this disorder in adulthood. To test this hypothesis in a high-throughput animal model, we have transiently manipulated dopamine signaling in the developing fruit fly Drosophila melanogaster and examined behavioral responsiveness in adult flies. We found that either a transient increase of dopamine neuron activity or a transient decrease of dopamine receptor expression during fly brain development permanently impairs behavioral responsiveness in adults. A screen for impaired responsiveness revealed sleep-promoting neurons in the central brain as likely postsynaptic dopamine targets modulating these behavioral effects. Transient dopamine receptor knockdown during development in a restricted set of ~20 sleep-promoting neurons recapitulated the dopamine ontogeny phenotype, by permanently reducing responsiveness in adult animals. This suggests that disorders involving impaired behavioral responsiveness might result from defective ontogeny of sleep/wake circuits.
No MeSH data available.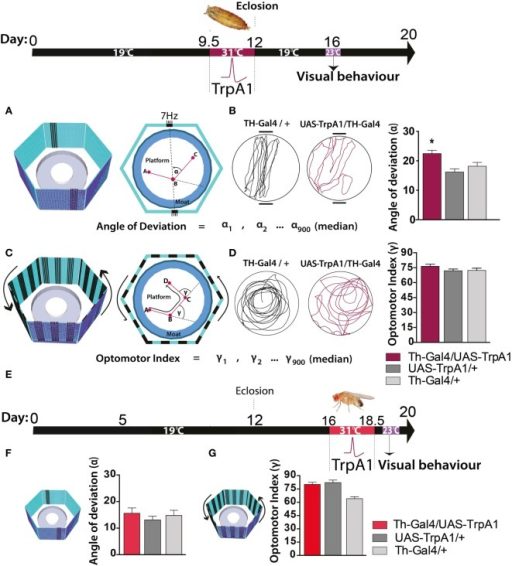 © Copyright Policy
License
getmorefigures.php?uid=PMC5304146&req=5
Mentions: We next investigated whether these persistent effects on behavioral responsiveness generalized to other sensory modalities, such as vision. To test visual responsiveness in Drosophila, we used a modified version of "Buridan's paradigm" (29). In this assay, individual flies display visual responsiveness (or "fixation strength") by walking back and forth between two opposing salient target objects (Figure 3A, left panel). Fixation strength is measured by the angle of deviation to the targets, where a smaller deviation indicates stronger fixation (Figure 3A, right panel). We found that the transient increase in dopamine activity during development significantly impaired fixation to this visual stimulus, as evident by an increased average angle of deviation from the target objects (Figure 3B, maroon), compared to similarly treated controls (F(2,85) = 7.77, P < 0.05, Tukey's) (Figure 3B, gray). We questioned whether other forms of visual responsiveness might also be compromised. Specifically, we examined the optomotor response, whereby flies reflexively track moving objects (30) (Figure 3C). We found no significant effect on optomotor behavior in this paradigm (F(2,119) = 1.3, P = 0.34, Tukey's) (Figure 3D). Importantly, there were no persistent behavioral effects in either paradigm when dopamine activity was transiently increased in adulthood (fixation paradigm: F(8,46) = 2.5, P = 0.90, Tukey's; optomotor paradigm: F(8,270) = 5.4 P = 0.64, Tukey's) (Figures 3E–G, red bars).