Transient Dysregulation of Dopamine Signaling in a Developing Drosophila Arousal Circuit Permanently Impairs Behavioral Responsiveness in Adults
ABSTRACT
---
The dopamine ontogeny hypothesis for schizophrenia proposes that transient dysregulation of the dopaminergic system during brain development increases the likelihood of this disorder in adulthood. To test this hypothesis in a high-throughput animal model, we have transiently manipulated dopamine signaling in the developing fruit fly Drosophila melanogaster and examined behavioral responsiveness in adult flies. We found that either a transient increase of dopamine neuron activity or a transient decrease of dopamine receptor expression during fly brain development permanently impairs behavioral responsiveness in adults. A screen for impaired responsiveness revealed sleep-promoting neurons in the central brain as likely postsynaptic dopamine targets modulating these behavioral effects. Transient dopamine receptor knockdown during development in a restricted set of ~20 sleep-promoting neurons recapitulated the dopamine ontogeny phenotype, by permanently reducing responsiveness in adult animals. This suggests that disorders involving impaired behavioral responsiveness might result from defective ontogeny of sleep/wake circuits.
No MeSH data available.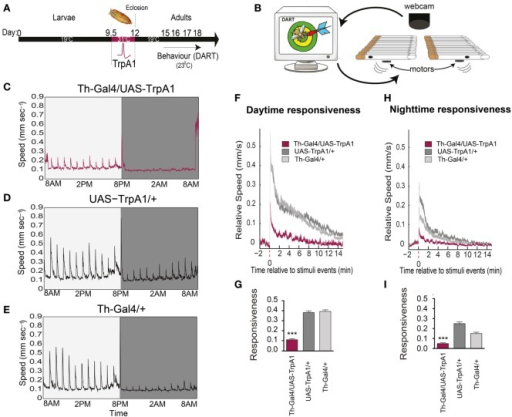 © Copyright Policy
License
getmorefigures.php?uid=PMC5304146&req=5
Mentions: We investigated whether a transient developmental increase in dopamine activity during Drosophila development (Figure 1A) affected behavioral responsiveness in adults, by using a newly developed paradigm to measure behavioral responsiveness to mechanical stimuli in flies, the DART system (16) (Figure 1B). We utilized a heat-inducible genetic construct [TrpA1 (20)] to induce depolarization in dopaminergic neurons during late pupation (21, 22). We found that this transient increase of presynaptic dopamine activity resulted in decreased responsiveness to mechanical stimuli in these flies as adults (Figure 1C), compared to similarly treated genetic controls (Figures 1D,E). This effect was evident as significantly decreased average speed of the treated flies in response to mechanical stimuli during the day (F(2,93) = 119, P < 0.001, Tukey's) (Figures 1F,G) and night (F(2, 93) = 52.43, P < 0.001, Tukey's) (Figures 1H,I), suggesting a general deficit in arousal. Average walking speed, however, was not significantly affected by this treatment (day: F(2, 93) = 11.76, P = 0.9494, Tukey's; night: F(2, 93) = 27.53, P = 0.0689, Tukey's) (Figure 2A), suggesting that the deficit is more specifically related to behavioral responsiveness than baseline activity.