Transporter oligomerization: form and function
ABSTRACT
---
Transporters are integral membrane proteins with central roles in the efficient movement of molecules across biological membranes. Many transporters exist as oligomers in the membrane. Depending on the individual transport protein, oligomerization can have roles in membrane trafficking, function, regulation and turnover. For example, our recent studies on UapA, a nucleobase ascorbate transporter, from Aspergillus nidulans, have revealed both that dimerization of this protein is essential for correct trafficking to the membrane and the structural basis of how one UapA protomer can affect the function of the closely associated adjacent protomer. Here, we review the roles of oligomerization in many particularly well-studied transporters and transporter families.
No MeSH data available.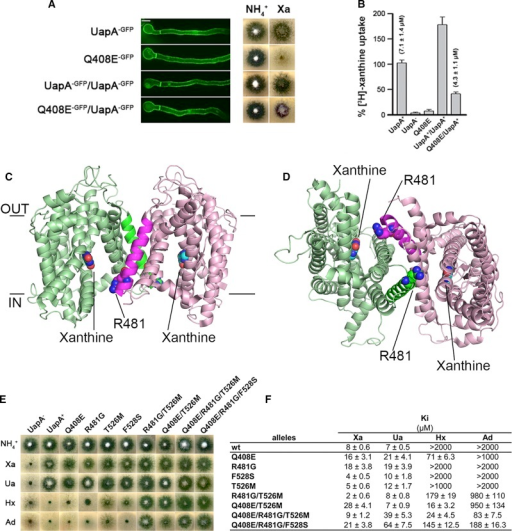 © Copyright Policy - open-access
License
getmorefigures.php?uid=PMC5134999&req=5
Mentions: In addition, dominant negative mutants of UapA have been described, which traffic effectively to the membrane but reduce the transport activity of co-expressed WT, strongly suggesting that this transporter also functions as a dimer (Figure 1a,b) [11]. The high-resolution structure of a thermostabilized form of UapA, trapped in the inward-facing conformation, has revealed further clues about the role that oligomerization has in transport function [11]. UapA was crystallized as a closely associated dimer (Figure 1c,d), confirming the earlier findings [5]. There are many key residues in UapA involved in substrate selectivity [12–14]. The structure revealed that one of these residues, Arg481, lies in close proximity to the binding site of the opposite protomer, and it is likely to act as the last checkpoint, allowing efficient uptake of the native substrates, xanthine and uric acid, and not other related molecules. The size of the side chain is likely to be important here as mutation to the much smaller Gly allows uptake of adenine and hypoxanthine, substrates not transported by WT UapA (Figure 1e,f) [11]. While the structure highlighted the interdependency of the UapA protomers in substrate selectivity, it did not explain the dominant negative effects seen for the Q408E mutant. Thus, there are clearly other aspects of UapA protomer cross-talk that have yet to be elucidated. It is interesting to note that, in most crystal structures of dimeric transporters, the individual protomers adopt similar conformations. One exception to this is the recent structure of the CitS where an asymmetrical dimer is observed [15]. In this case, both outward- and inward-facing conformations can be seen in a single oligomer. While such arrangements appear to be stochastic, it is intriguing to ask whether such arrangements may be a co-ordinated part of the transport cycle. The UapA construct used for structure determination is a conformationally locked mutant; however, it is possible that, in the WT form, the two protomers can adopt different conformational states as seen in CitS. To date, there is no evidence that the CitS dimer is important for function.Figure 1.Role of oligomerization of UapA.