The Borg family of Cdc42 effector proteins Cdc42EP1 – 5
ABSTRACT
---
Despite being discovered more than 15 years ago, the Borg (binder of Rho GTPases) family of Cdc42 effector proteins (Cdc42EP1–5) remains largely uncharacterised and relatively little is known about their structure, regulation and role in development and disease. Recent studies are starting to unravel some of the key functional and mechanistic aspects of the Borg proteins, including their role in cytoskeletal remodelling and signalling. In addition, the participation of Borg proteins in important cellular processes such as cell shape, directed migration and differentiation is slowly emerging, directly linking Borgs with important physiological and pathological processes such as angiogenesis, neurotransmission and cancer-associated desmoplasia. Here, we review some of these findings and discuss future prospects.
No MeSH data available.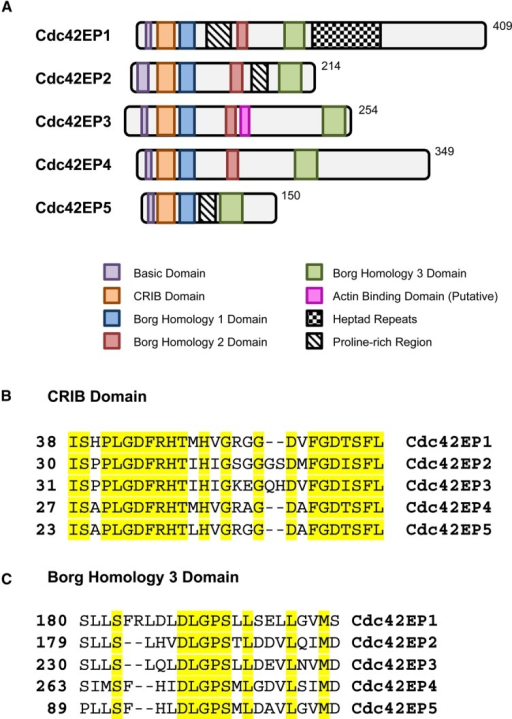 © Copyright Policy - open-access
License
getmorefigures.php?uid=PMC5134998&req=5
Mentions: Borg proteins are relatively small in size, ranging from 150 amino acids (∼15.5 kDa) in Cdc42EP5 to 409 amino acids (∼39 kDa) in Cdc42EP1 (Figure 1A). No family member presents known enzymatically active domains, which suggest that they may exert their biological functions via structural or scaffolding activities. All Borg proteins are characterised by the presence of a highly homologous N-terminal CRIB domain (Figure 1B) [6,7]. In Borgs, the CRIB domain presents an extension at the C-terminus that may mediate its specific binding to active Cdc42 and TC10 but not to Rac1 [6,7], as well as determining part of the particular biological effects of these proteins. Following the CRIB motif, there is a well-conserved short domain that is unique to Borg proteins and that was defined as the Borg Homology (BH) 1 domain [6]. The central and C-terminal parts of the proteins are more divergent, but still present two additional well-conserved regions termed BH2 and BH3. The BH2 domain is absent in the smallest Borg, Cdc42EP5, whereas the BH3 domain is common to all Borgs. The BH3 domain has a central location in Cdc42EP1 and Cdc42EP4, whereas it is localised at the C-terminal parts of Cdc42EP2, Cdc42EP3 and Cdc42EP5 (Figure 1C). The BH3 domain is the only BH domain with a defined molecular role and has been shown to be necessary and sufficient for the specific binding of Borgs to septins [10] (see Box 1). Contrary to the BH3 domain, the roles of the BH1 and BH2 domains are still to be defined. Outside the CRIB and BH domains, sequence divergences emerge. The central regions of Cdc42EP1, Cdc42EP2 and Cdc42EP5 present a proline-rich domain; in addition, Cdc42EP1 contains several heptad repeats that follow the BH3 domain [10]. More recently, it has been described that Cdc42EP3 presents a putative actin-binding region in its central region, C-terminally to the BH2 domain (Figure 1A) [11]. This region presents high homology to the actin bundling region of Anillin. This particular actin-binding region of Cdc42EP3 is not conserved among Borg proteins; however, other Borg members may bind and/or modulate the actin cytoskeleton by alternative mechanisms or via distinct domains.Figure 1.Cdc42EP/Borg family of Cdc42 effector proteins.