Isolation and Characterization of Agrobacterium Strains from Soil: A Laboratory Capstone Experience †
ABSTRACT
---
In this investigation, the students' goal was to isolate and characterize Agrobacterium strains from soil. Following selection and enrichment on 1A-t medium, putative Agrobacterium isolates were characterized by Gram stain reaction and biochemical tests. Isolates were further evaluated using polymerase chain reaction (PCR) with different primer sets designed to amplify specific regions of bacterial deoxyribonucleic acid (DNA). Primer sets included AGRH to identify isolates that were members of the Rhizobiaceae, BIOVAR1 primers to identify members of Agrobacterium biovar group I, and a third set, VIRG, to determine presence of virG (only present in pathogenic Agrobacterium strains). During the investigation, students applied previously learned techniques including serial dilution, use of selective/differential media, staining protocols, biochemical analysis, molecular analysis via PCR, and electrophoresis. Students also gained practical experience using photo documentation to record data for an eventual mock journal publication of the capstone laboratory experience. Pre- and post-evaluation of class content knowledge related to the techniques, protocols, and learning objectives of these laboratories revealed significant learning gains in the content areas of Agrobacterium–plant interactions (p ≤ 0.001) and molecular biology (p ≤ 0.01). The capstone journal assignment served as the assessment tool to evaluate mastery and application of laboratory technique, the ability to accurately collect and evaluate data, and critical thinking skills associated with experimental troubleshooting and extrapolation. Analysis of journal reports following the capstone experience showed significant improvement in assignment scores (p ≤ 0.0001) and attainment of capstone experience learning outcomes.
No MeSH data available.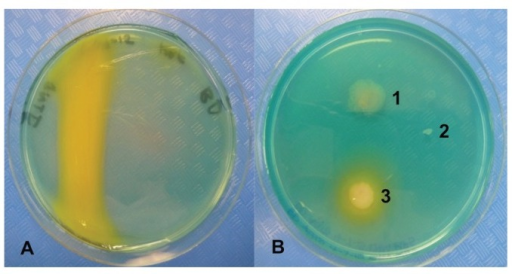 © Copyright Policy - open-access
License 1 - License 2


getmorefigures.php?uid=PMC5134949&req=5

Mentions: When growing on 1A-t medium, members of the Rhizobiaceae (Fig. 1) produced black, glistening, smooth, raised colonies with round margins within five days of dilution plating (2, 9). Typically 10−1 and 10−2 dilutions of soil extracts allowed for growth of isolated colonies with minimal overgrowth by other organisms. Candidate Agrobacterium isolates presented as Gram-negative bacilli that were oxidase positive, producing a dark purple color on oxidase dry slides immediately (Fig. 1). Most environmental isolates were nitrate and motility positive. Putative biovar 1 strains produced a yellow ring around the colony in the 3-ketolactose assay while 3-ketolactose negative isolates were non-reactive (Fig. 2). PCR gels included the 100 bp ladder as a size standard (Fig. 3, lane 6) as well as student and control reactions (Fig. 3). A student sample in lane 7 with AGRH primers yielded an amplicon of 739 bp, while student samples using BIOVAR1 primers (lanes 2, 11) produced a product of approximately 473 bp. The student sample in lane 10 demonstrated several bands. It was later determined that the student group loaded all three PCR amplification products into a single lane. Their interpretation of results suggested isolation of a biovar 1, virG-positive Agrobacterium, although additional bands of unknown significance also appeared. The biovar 1, pathogenic strain A. tumefaciens EHA105 (4), served as the control strain and yielded amplicons with all three primers (lanes 3, 4, 5, 8, 9).