Bioart and Bildung — Wetware: Art, Agency, Animation, an Exhibition as Case Study
ABSTRACT
---
Recent events in the field of biology have further unfixed the definition of life. The negotiability of "life" is at the center of the exhibition "Wetware: Art, Agency, Animation" at the Beall Center for Art + Technology at the University of California, Irvine. The exhibition includes art by nine international artists working in the avant-garde area of contemporary art called "bioart." This article is devoted to the unique educational space opened through the practice of bioart, focusing on how the exhibition brings the scientific question "What is life?" to a public audience. Bildung, a term that translates as education but encompasses exploration and growth, is based on the holistic unity of science and art and is used here to show that neither science nor art sacrifices legitimacy or distinction within bioart. Art can suggest design and be useful; science can point to abstraction and be poetic. Bioart inspires a chain of curiosity about the form, materials, media that artists use to probe, shape, direct, and display scientific processes and concepts.
No MeSH data available.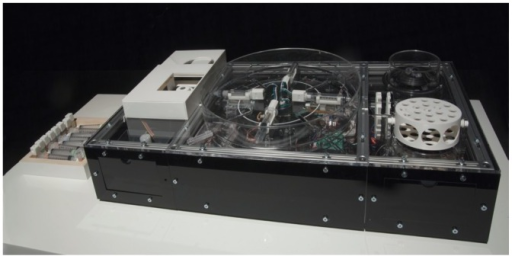 © Copyright Policy - open-access
License 1 - License 2


getmorefigures.php?uid=PMC5134944&req=5

Mentions: The use of bacteria in contemporary bioart is not just a matter of trendy materials eliciting shock value but is part of an ecological politics in which "life" moves beyond a mammal-centric paradigm of evolution to one rooted in the limit biologies of extremophile bacteria, the microbiome, and an understanding that bacteria are not just germs but essential to the proper function of our bodies, environments, and imbricated ecologies (23), all of which impinge upon gender norms in culture and society. So the bacteria in Thomas Feuerstein's "PANCREAS" (Fig. 6) and Orkan Telhan's "Biorealize: Microbial Design Studio" (Fig. 7) have layered purpose. While, in Feuerstein's brain in a vat, it works to simulate digestive processes in breaking down cellulose to glucose and, in Telhan's prototype, microorganisms are transformed, incubated, and purified to simulate the smell of bananas, the presence of bacteria in both pieces communicates a collective message about evolution and life itself. Bacteria in this art draw attention to evolution from the perspective of microbes, not just plants and mammals, and the attendant world of diversified reproduction manifesting in asexuality, hermaphroditism, parthenogenesis, and lateral gene transfer.