Peritoneal dialysis-related peritonitis due to Halomonas hamiltonii
ABSTRACT
---
Introduction:: Halomonas hamiltonii is a Gram-negative, halophilic, motile, and nonspore-forming rod bacterium. Although most Halomonas sp. are commonly found in saline environments, it has rarely been implicated as a cause of human infection. Herein, the authors present a case report of continuous ambulatory peritoneal dialysis (CAPD)-related peritonitis attributed to H hamiltonii.
Case presentation:: An 82-year-old male patient who had been receiving CAPD therapy presented to an emergency department with complaints of abdominal pain and cloudy dialysate that had persisted for 2 days. The peritoneal dialysate was compatible with CAPD peritonitis, with white blood cell count of peritoneal effluent of 810/mm3 and neutrophils predominated (60%). Two days after culture on blood agar medium, nonhemolytic pink mucoid colonies showed, with cells showing Gram-negative, nonspore-forming rods with a few longer and larger bacilli than usual were found. We also performed biochemical tests and found negative responses in K/K on the triple sugar iron test and H2S and equivocal (very weak) response in the motility test, but positive responses to catalase, oxidase, and urease tests. The partial sequence of the 16S rRNA gene of a bacterium detected by peritoneal fluid culture was utilized for a Basic Local Alignment Search Tool search, which revealed that the organism was H hamiltonii. Intraperitoneal antibiotics were administered for 21 days, and the patient was discharged without clinical problems.
Conclusion:: We present here the first case report of CAPD-related peritonitis caused by H hamiltonii, which was identified using molecular biological techniques. Although guidelines do not exist for the treatment of infections caused by this organism, conventional treatment for Gram-negative organisms could be effective.
No MeSH data available.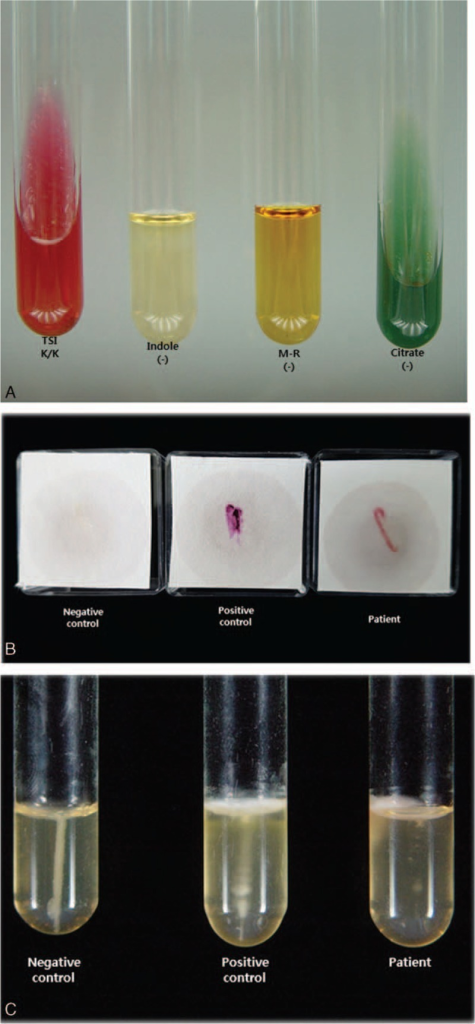 © Copyright Policy - open-access
License
getmorefigures.php?uid=PMC5134875&req=5
Mentions: Little is known about the clinical implications of peritoneal dialysis-associated peritonitis (PD peritonitis) caused by Halomonas species. Antibiotic susceptibility to H hamiltonii has been revealed in previous studies. Specifically, Lee et al described the characteristics of Halomonas, especially in ESRD patients with maintenance hemodialysis.[9,10] They had previously reported the treatment of Halomonas-infected hemodialysis patients. However, to the best of our knowledge, there is no Halomonas-specific treatment protocol in PD peritonitis. In hemodialysis patients, conventional antibiotics coverage for Gram-negative rod was successful.[9] Moreover, the results of antimicrobial susceptibility tests (ASTs) have been reported.[9] In the present study, we also conducted ASTs of our study specimen using the N224, N225, P600, and P601 cards (bioMérieux) for enterobacteriaceae, nonfermentative Gram-negative bacteria (GNB), enterococci, and staphylococci, respectively (Table 1). The results of our study were consistent with those of previous studies.[9,10] In this study, we additionally attempted to conduct microscopic examination of Halomonas in peritoneal dialysis fluid. Good growth was observed on blood agar medium, and the biochemical tests for strain characterization revealed negative responses in K/K on the triple sugar iron (TSI) test and H2S, a weak positive equivocal response in the motility test, and positive responses to the catalase, oxidase, and urease tests (Fig. 4). These strains of Halomonas species differ from each in the previous study in terms of having flagella. In our specimen, the motility test is not conclusive. Thus, we performed electron microscopic observation of flagellation in our specimen. We failed to demonstrate that the culture organisms are motile with flagella (Fig. 5). In our specimen, we concluded that this Halomonas species has no flagellae and no motility.