(Na, □ ) 5 [MnO 2 ] 13 nanorods: a new tunnel structure for electrode materials determined ab initio and refined through a combination of electron and synchrotron diffraction data
ABSTRACT
---
(Nax□1 − x)5[MnO2]13 has been synthesized with x = 0.80 (4), corresponding to Na0.31[MnO2]. This well known material is usually cited as Na0.4[MnO2] and is believed to have a romanèchite-like framework. Here, its true structure is determined, ab initio, by single-crystal electron diffraction tomography (EDT) and refined both by EDT data applying dynamical scattering theory and by the Rietveld method based on synchrotron powder diffraction data (χ2 = 0.690, Rwp = 0.051, Rp = 0.037, RF2 = 0.035). The unit cell is monoclinic C2/m, a = 22.5199 (6), b = 2.83987 (6), c = 14.8815 (4) Å, β = 105.0925 (16)°, V = 918.90 (4) Å3, Z = 2. A hitherto unknown [MnO2] framework is found, which is mainly based on edge- and corner-sharing octahedra and comprises three types of tunnels: per unit cell, two are defined by S-shaped 10-rings, four by egg-shaped 8-rings, and two by slightly oval 6-rings of Mn polyhedra. Na occupies all tunnels. The so-determined structure excellently explains previous reports on the electrochemistry of (Na,□)5[MnO2]13. The trivalent Mn3+ ions concentrate at two of the seven Mn sites where larger Mn—O distances and Jahn–Teller distortion are observed. One of the Mn3+ sites is five-coordinated in a square pyramid which, on oxidation to Mn4+, may easily undergo topotactic transformation to an octahedron suggesting a possible pathway for the transition among different tunnel structures.
No MeSH data available.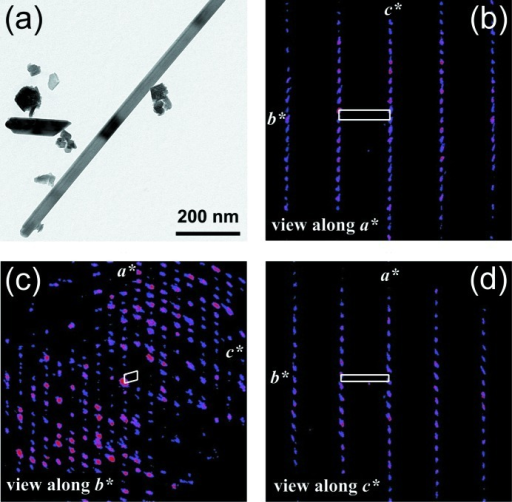 © Copyright Policy - open-access
License
getmorefigures.php?uid=PMC5134763&req=5
Mentions: From EDT (Fig. 2 ▸), a C-centred monoclinic unit cell, a = 22.63 (12), b = 2.826 (14), c = 14.91 (7) Å, β = 104.6 (5)°, was unequivocally derived, the a, c and β parameters being very different from those in the romanèchite cell (C2/m, a = 13.929, b = 2.8459, c = 9.678 Å, β = 92.39°; Turner & Post, 1988 ▸). The main direction of growth of the rods is always b. The diffraction symbol is 2/mC– – leaving C12/m1, C121 and C1m1 as possible space groups. SUPERFLIP gave space group C2/m as first choice for the correct solution. In order to obtain a confirmation about this space group, we conducted a supplementary statistical analysis of intensities using the program suite DIFRASYM (Gregorkiewitz & Vezzalini, 1989 ▸). A value of pwys(h0l) = 0.900 suggests that –1/m– is either absent or most atoms lie on the reflection plane (which is actually the case), and the intensity distribution parameters (Ramachandran & Srinivasan, 1959 ▸) NYQ1(hkl) = 0.456 and NYQ1(h0l) = 0.699 comply with the presence of the centre and the binary –2–, respectively (NYQ1 = 1.960 for acentric and 0.776 for centric distribution). We therefore choose C2/m to start with model search and parameter refinement. The internal error for averaging over Laue equivalent intensities is Rsym = 0.135 and clearly within the mean error of all intensities Rσ = ΣσI/ΣI = 0.157 (Table S1).