A protein – dye hybrid system as a narrow range tunable intracellular pH sensor † † Electronic supplementary information (ESI) available: Figures depicting various photophysical properties, cytotoxicity studies and confocal fluorescence images. See DOI: 10.1039/c6sc02659a Click here for additional data file.
ABSTRACT
---
Accurate monitoring of pH variations inside cells is important for the early diagnosis of diseases such as cancer. Even though a variety of different pH sensors are available, construction of a custom-made sensor array for measuring minute variations in a narrow biological pH window, using easily available constituents, is a challenge. Here we report two-component hybrid sensors derived from a protein and organic dye nanoparticles whose sensitivity range can be tuned by choosing different ratios of the components, to monitor the minute pH variations in a given system. The dye interacts noncovalently with the protein at lower pH and covalently at higher pH, triggering two distinguishable fluorescent signals at 700 and 480 nm, respectively. The pH sensitivity region of the probe can be tuned for every unit of the pH window resulting in custom-made pH sensors. These narrow range tunable pH sensors have been used to monitor pH variations in HeLa cells using the fluorescence imaging technique.
No MeSH data available.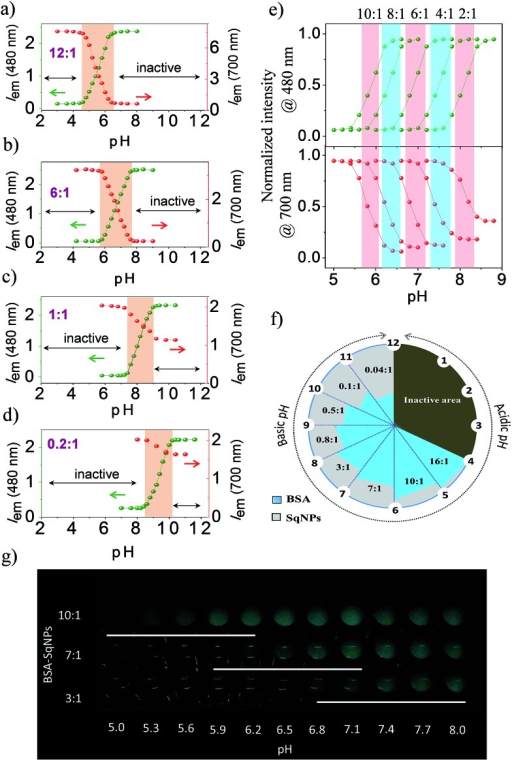 © Copyright Policy - open-access
License
getmorefigures.php?uid=PMC5134758&req=5
Mentions: Since the interaction of the dye with protein could be controlled by changing the ratio between SqNPs and the protein at different pH conditions, we hypothesized that an array of hybrid probes that respond to different pH values can be designed. In order to establish this point, we prepared a series of nanosensors with BSA–SqNP ratios of 12 : 1, 6 : 1, 1 : 1 and 0.2 : 1. Each of these combinations was specific to a narrow pH compartment and allowed for continuous pH sensing over a broad pH window of 4.0 to 10.0, each with a detection range of 1.5–2.0 units as shown in the respective ratiometric emission plots (Fig. 3a–d). At a pH range of 2–4.6, a 12 : 1 BSA–SqNP combination exhibited a maximum fluorescence response at 700 nm and a minimum response at 480 nm due to the preferential noncovalent interaction of the dye with protein (Fig. 3a). As the pH of the solution is increased from 4.6, the intensity of the green fluorescence at 480 nm is increased with the simultaneous quenching of the NIR emission at 700 nm due to the covalent modification of the dye with protein. This noncovalent to covalent transformation of the dye with the protein allows ratiometric monitoring of pH. Therefore, the 12 : 1 BSA–SqNP complex exhibits optical signaling in a ratiometric fashion in the pH range of 4.6–6.4 and becomes inactive beyond pH 6.4. For sensing pH above 6.4, the amount of protein has to be decreased to a ratio of 6 : 1. The effect of pH on this combination is shown in Fig. 3b. At this combination, the sensor becomes active above pH 5.8 and inactive at pH 7.6. Therefore, a 6 : 1 combination becomes a pH sensor in the range of 5.8–7.6, however above 7.6, this combination turns inactive. Hence, we further reduced the amount of protein and a 1 : 1 combination was prepared. This combination exhibited activity in the pH range of 7.4–9.0 (Fig. 3c). For pH > 9.0, we tried a ratio of 0.2 : 1 BSA–SqNPs. This combination exhibited a pH response between 8.6 and 10.2 and the emission became saturated above this pH (Fig. 3d). Thus, by varying the ratio of BSA and SqNPs, we could design a series of sensors for monitoring pH over a narrow range in a broad window. From the above data we found that a 6 : 1 ratio provides good response in the biological window. In order to further fine tune the ratio required for minute pH variations in the biological window, we tried other combinations of BSA and SqNPs between 10 : 1 and 2 : 1. The results of these studies are shown in Fig. 3e. These studies revealed that the best combinations to monitor the pH variations in the biological pH window are between 10 : 1 and 4 : 1. For example, the maximum response of the 10 : 1 ratio is at pH 5.8 whereas the response of the 8 : 1 ratio is at 6.3. On the other hand, 6 : 1 and 4 : 1 ratios showed responses at 6.7 and 7.4 respectively. Thus, we could design probes whose maximum responses are narrowed down to 0.4–0.6 pH units. In this way, by swiftly adjusting the ratio between BSA and the dye nanoparticles, we could custom-make a series of hybrid nanosensors for monitoring pH variations in narrow pH segments over a broad pH scale as shown in Fig. 3f. From this figure, it is easy to decide upon the optimum ratio of the protein and the dye nanoparticles required for accurate pH monitoring of a given sample, particularly of a biological specimen. In addition, we have demonstrated the pH dependent fluorescence changes of the hybrids in the in vitro solution condition. UV illumination (365 nm) of hybrids of ratios 10 : 1, 7 : 1 and 3 : 1 at different pH in a microwell plate displaying sensitivity in different ranges, enables naked eye detection (Fig. 3g).