Ischaemic stroke and Clostridium septicum sepsis and meningitis in a patient with occult colon carcinoma - a case report and review of the literature
ABSTRACT
---
Background: Clostridium septicum is a rare cause of meningitis and brain abscess in children and adults. Gas production by the pathogen can lead to pneumocephalus and the overall mortality rate of Clostridium septicum CNS infection is as high as 74%. The most common entry site of the pathogen is the gastrointestinal tract.
Case presentation: We describe a 74-year-old man who presented with a left-sided cerebral infarction in the middle cerebral artery territory. In addition the patient showed signs of Systemic Inflammatory Response Syndrome and Disseminated Intravascular Coagulation. Examination of blood cultures and cerebrospinal fluid led to the diagnosis of sepsis and meningitis caused by Clostridium septicum. Despite appropriate antibiotic therapy the condition of the patient deteriorated rapidly and he died on day 2 after admission. Autopsy revealed a previously unknown adenocarcinoma of the colon ascendens as entry site of the pathogen.
Conclusion: Clostridium septicum should be considered as potential pathogen in patients with sepsis and meningitis. Gram stain morphology in conjunction with severe sepsis can rapidly point into the direction of this pathogen. CNS infections manifest either as meningoencephalitis/cerebritis or as brain abscess. Entry site of the pathogen is almost uniquely the gastrointestinal tract. In adults more than 50% suffer from colorectal carcinoma, therefore survivors of Clostridium septicum infections should be examined for underlying occult colorectal malignancy.
No MeSH data available.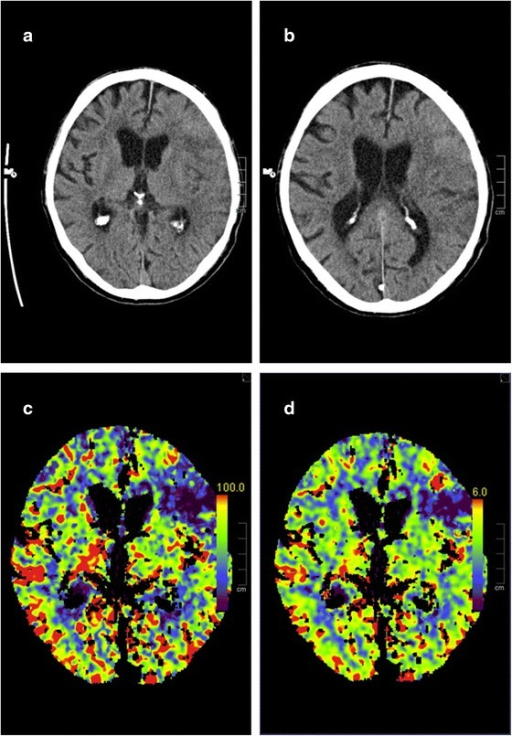 © Copyright Policy - OpenAccess
License 1 - License 2


getmorefigures.php?uid=PMC5121982&req=5

Mentions: A 74-year-old man was admitted to our emergency department in a somnolent state of consciousness with left gaze preference, aphasia, and right-sided hemiparesis (National Institutes of Health Stroke Scale, NIHSS-score: 17). The symptoms were first realized after awakening. Cranial computed tomography and angiography revealed a left-sided infarction in the middle cerebral artery (MCA) territory caused by a peripheral MCA occlusion (Fig. 1). In addition the patient showed signs of Systemic Inflammatory Response Syndrome (SIRS) and Disseminated Intravascular Coagulation (DIC) (body temperature 41.1 °C, heart rate 140/min, respiratory rate 17/min, leucocytes 4.17 × 10^3/ul, C-reactive protein (CRP) 54.3 mg/l, platelet count 111 × 10^3/ul). Intravenous fluid therapy was started immediately. After acquisition of blood cultures and cerebrospinal fluid (CSF), an empiric antibiotic therapy with ceftriaxone, ampicillin and aciclovir was initiated. Soon after, the patient required cardiopulmonary resuscitation in the setting of septic shock. After intubation and cardiopulmonary stabilization the patient was admitted to the neuro-intensive care unit. CSF examination showed 390 leucocytes/ml, elevated lactate (5.52 mmol/l) and protein levels (2783 mg/l) as well as normal glucose levels (66% of serum levels). Immediate Gram staining of CSF revealed partially elongated, Gram-positive rods without spore formation. Because of their size and appearance Listeria spp. could be ruled out and Bacillus spp. or Clostridium spp. were suspected (Fig. 2a). Therefore the antibiotic therapy was escalated with vancomycin. On the following day anaerobic blood cultures grew also Gram-positive rods with some of them showing endospore formation (Fig. 2b). Aerobic blood cultures remained sterile. Accordingly, sepsis and meningitis by Clostridium spp. were assumed. Culture results confirmed this tentative diagnosis and the bacteria were identified by mass spectroscopy as Clostridium septicum. Antibiotic susceptibility testing showed that the strain was sensitive to penicillin G, imipenem, clindamycin, vancomycin and metronidazole with minimal inhibitory concentration of 0.023 mg/l, 0.006 mg/l, 0.032 mg/l, 0.75 mg/l and 0.25 mg/l, respectively. Respiratory specimens and urine were unremarkable. Transthoracic echocardiography did not show endocarditis and there was no sign of an infection focus in ear, nose, throat or the sinuses. The further course was characterized by a persistent severe septic disease pattern with high demand of catecholamines, strong increase of inflammation parameters (leucocytes max. 42.86 × 103/ul, procalcitonin (PCT) max. 177.32 ng/ml, CRP max. 398.8 mg/l). The antibiotic therapy was switched to high dose penicillin G and clindamycin. The inflammatory parameters started to decrease approximately 48 h after initiation of empiric antibiotic therapy. However, because the patient showed a persistent loss of brain stem reflexes after initial cardiopulmonary resuscitation, it was decided to change the therapy to a palliative regimen. The patient died two days post admission. Due to the fact that no obvious risk factors for Clostridium septicum bacteremia were present (e.g. infected wounds, myonecrosis, diabetes mellitus, severe atherosclerotic cardiovascular disease, neutropenia, liver cirrhosis), a previously unknown gastrointestinal focus of infection was most likely [4]. Accordingly, autopsy revealed an adenocarcinoma of the colon ascendens with 2.8 cm in diameter as entry site of the pathogen.Fig. 1