The microRNA toolkit of insects
ABSTRACT
---
Is there a correlation between miRNA diversity and levels of organismic complexity? Exhibiting extraordinary levels of morphological and developmental complexity, insects are the most diverse animal class on earth. Their evolutionary success was in particular shaped by the innovation of holometabolan metamorphosis in endopterygotes. Previously, miRNA evolution had been linked to morphological complexity, but astonishing variation in the currently available miRNA complements of insects made this link unclear. To address this issue, we sequenced the miRNA complement of the hemimetabolan Blattella germanica and reannotated that of two other hemimetabolan species, Locusta migratoria and Acyrthosiphon pisum, and of four holometabolan species, Apis mellifera, Tribolium castaneum, Bombyx mori and Drosophila melanogaster. Our analyses show that the variation of insect miRNAs is an artefact mainly resulting from poor sampling and inaccurate miRNA annotation, and that insects share a conserved microRNA toolkit of 65 families exhibiting very low variation. For example, the evolutionary shift toward a complete metamorphosis was accompanied only by the acquisition of three and the loss of one miRNA families.
No MeSH data available.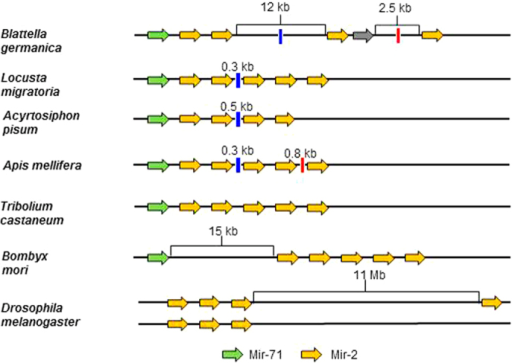 © Copyright Policy - open-access
License
getmorefigures.php?uid=PMC5121899&req=5
Mentions: Moreover, we identified 13 miRNA clusters in the genome of B. germanica, whose organization is conserved across most of the species studied (Supplementary Table S7). A. pisum lost the entire cluster Mir-12/Mir-216, which contains two Mir-216 and one Mir-12 precursors in the other six species studied. Notably, this cluster is located in the X chromosome in D. melanogaster22. Other clusters lost are Mir-306/Mir-9 in T. castaneum and Mir-750 in D. melanogaster. At specific level, cluster length can be highly variable, like in B. germanica, where it ranges from 0.18 to 51.60 kb. Moreover, cluster length average in different species can vary between 2.39 ± 3.20 kb (n = 9) in D. melanogaster to 12.19 ± 15.82 kb (n = 13) in B. germanica (Supplementary Table S7). A representative example is the Mir-71/Mir-2 cluster, which is usually composed by one Mir-71 precursor followed by a number of Mir-2 precursors23. In B. germanica genome this cluster is formed by Mir-71 followed by five Mir-2 (=Mir-13) precursors11. However, a major difference with respect to other species is the distance between the second and third Mir-2 precursors, which in B. germanica exceeds 12 kb, whereas in other species this distance is much shorter (Fig. 7). Within the 12 kb cluster of B. germanica we have found a sequence homologous to "Tigger transposable element derived protein 4" (TIGD4) for which there are expression data, as it appears in tergal gland transcriptomes24. It is worth noting that many copies of TIGD4 are spread in the genome of B. germanica. Interestingly, cluster length appears to correlate with the genome size of the species. If we exclude the case of L. migratoria, where clusters length is probably underestimated due to the small scaffold size (N50 = 9,587, while in B. germanica N50 = 1,056,071), which provokes the splitting of large clusters, then there is a strong correlation (r2 = 0.874) between cluster length and genome size in the six other studied species (Fig. 8).