Genome-wide transcriptome analysis revealed organelle specific responses to temperature variations in algae
ABSTRACT
---
Temperature is a critical environmental factor that affects microalgal growth. However, microalgal coping mechanisms for temperature variations are unclear. Here, we determined changes in transcriptome, total carbohydrate, total fatty acid methyl ester, and fatty acid composition of Tetraselmis sp. KCTC12432BP, a strain with a broad temperature tolerance range, to elucidate the tolerance mechanisms in response to large temperature variations. Owing to unavailability of genome sequence information, de novo transcriptome assembly coupled with BLAST analysis was performed using strand specific RNA-seq data. This resulted in 26,245 protein-coding transcripts, of which 83.7% could be annotated to putative functions. We identified more than 681 genes differentially expressed, suggesting an organelle-specific response to temperature variation. Among these, the genes related to the photosynthetic electron transfer chain, which are localized in the plastid thylakoid membrane, were upregulated at low temperature. However, the transcripts related to the electron transport chain and biosynthesis of phosphatidylethanolamine localized in mitochondria were upregulated at high temperature. These results show that the low energy uptake by repressed photosynthesis under low and high temperature conditions is compensated by different mechanisms, including photosystem I and mitochondrial oxidative phosphorylation, respectively. This study illustrates that microalgae tolerate different temperature conditions through organelle specific mechanisms.
No MeSH data available.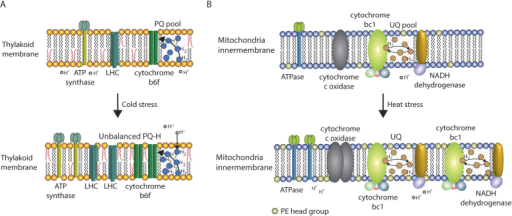 © Copyright Policy - open-access
License
getmorefigures.php?uid=PMC5121895&req=5
Mentions: Responses of Tetraselmis sp. KCTC12432BP to low temperature can be described as salvaging photosynthesis by adjusting the cellular contexts favourable for photosynthesis. First, the total FAME analysis showed an increase in unsaturated fatty acids, which have been previously explained as a response to increase thylakoid membrane fluidity that would otherwise be decreased by low temperature8937383940. Furthermore, the transcriptome data showed increased lipid biosynthesis in the plastid pathway that constitutes the major lipid structure in the thylakoid membrane. Changes in the lipid structure of the thylakoid membrane affect the stabilization of the D1 protein, which is important because the repair process of D1 protein is inhibited in low temperatures resulting in reduced photosynthesis efficiency737383940. Second, the transcriptome analysis showed increased levels of several genes of the PETC (Fig. 2C). The specific genes upregulated in low temperature were LHCA1, LHCA3, cytochrome b6f, and ATP synthase, which are sequentially after PSII in the PETC. In normal conditions, PQ obtains hydrogen ions (H+) from the stroma and the active PSII complex generates electrons from the water, which is transferred to PQ to form plastoquinole10111213. The plastoquinole transfers H+ to the lumen that generates an H+ gradient for ATP synthesis by ATP synthase and the electron would be transferred through the PETC to generate NADPH. However, in low temperatures, the PQ pool is in a reduced state of plastoquinole owing to the decreased rate of metabolism that causes high excitation pressure (HEP) (Fig. 4A)41. Thus, several genes of the PETC are upregulated in the low temperature condition to compensate for the decreased electron flow by HEP. Furthermore, upregulation of LHCA proteins that belong to PSI also suggests increased cyclic electron flow from PSI for an additional energy source42.