Genome-wide transcriptome analysis revealed organelle specific responses to temperature variations in algae
ABSTRACT
---
Temperature is a critical environmental factor that affects microalgal growth. However, microalgal coping mechanisms for temperature variations are unclear. Here, we determined changes in transcriptome, total carbohydrate, total fatty acid methyl ester, and fatty acid composition of Tetraselmis sp. KCTC12432BP, a strain with a broad temperature tolerance range, to elucidate the tolerance mechanisms in response to large temperature variations. Owing to unavailability of genome sequence information, de novo transcriptome assembly coupled with BLAST analysis was performed using strand specific RNA-seq data. This resulted in 26,245 protein-coding transcripts, of which 83.7% could be annotated to putative functions. We identified more than 681 genes differentially expressed, suggesting an organelle-specific response to temperature variation. Among these, the genes related to the photosynthetic electron transfer chain, which are localized in the plastid thylakoid membrane, were upregulated at low temperature. However, the transcripts related to the electron transport chain and biosynthesis of phosphatidylethanolamine localized in mitochondria were upregulated at high temperature. These results show that the low energy uptake by repressed photosynthesis under low and high temperature conditions is compensated by different mechanisms, including photosystem I and mitochondrial oxidative phosphorylation, respectively. This study illustrates that microalgae tolerate different temperature conditions through organelle specific mechanisms.
No MeSH data available.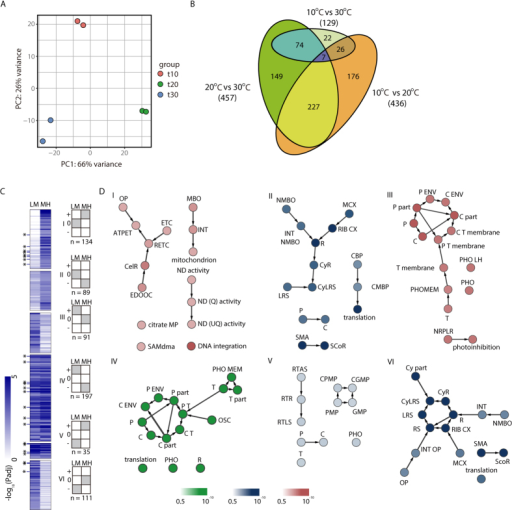 © Copyright Policy - open-access
License
getmorefigures.php?uid=PMC5121895&req=5
Mentions: To determine the changes in the transcriptome to different temperature conditions, we normalized the mapped reads, which were verified by principal component analysis (PCA)3132. All samples were grouped individually within each temperature condition, which suggested a high correlation between the biological replicates (Fig. 2A)3132. Next, we compared the differentially expressed genes (DEGs) between temperature conditions that satisfy at least a two-fold change and an adjusted P-value (Padj) cutoff < 0.01. The comparisons of low to mid (LM), mid to high (MH), and low to high (LH) temperature conditions resulted in 436, 457, and 129 DEGs, respectively (Fig. 2B, Supplemental Table S5). Next, we investigated whether the DEGs were functionally enriched using a network construction of the highly enriched GO terms via BiNGO (Supplemental Table S6)33. Interestingly, the enrichment was differentiated at the organelle level, where the upregulated genes in low-temperature conditions were mostly localized in the plastid and the upregulated genes in high-temperature conditions were localized in the mitochondria (Supplemental Fig. S3). For the comparison of MH conditions, the downregulated genes in high-temperature conditions were mainly composed of photosynthetic, cellular biosynthetic, and metabolic processes that enable cell proliferation. Considering the previously known inhibitory effect of heat stress on photosynthetic machinery, the decline in growth rate at high temperature results from the limited rate of photosynthesis1011. However, the upregulated genes in high-temperature conditions were enriched in oxidative phosphorylation, the respiratory electron transport chain, and NADH dehydrogenase, which generate energy in the form of NADH and ATP in the mitochondria. In particular, genes localized between the inner and outer membranes of the mitochondria, such as apocytochrome b (TR187067_c0_g1, TR77369_c0_g1), cytochrome c oxidase subunit 1 and 3 (TR273020_c0_g3, TR15219_c0_g1, TR196800_C2_G1), and core subunits of the NADH dehydrogenase (2, 4, 5, and 7) (TR185307_c0_g1, TR223398_c0_g2, TR263675_c0_g2, TR204700_c0_g8, TR220555_c0_g2), were activated, indicating that energy is highly utilized through the mitochondrial electron transport chain. This was further demonstrated in the comparison of LH conditions (Supplemental Fig. S3). The mitochondrial genes involved in energy processing were downregulated in high-temperature conditions. In addition, the functionally enriched GO terms indicated that oxidation of acetyl-CoA via the TCA cycle and cellular respiration was activated compared to that in low-temperature conditions. This data was consistent with the enrichments of the oxidative phosphorylation in the comparison of MH conditions, which generated NADH from the TCA cycle for ATP synthesis.