First in-flight synchrotron X-ray absorption and photoemission study of carbon soot nanoparticles
ABSTRACT
---
Many studies have been conducted on the environmental impacts of combustion generated aerosols. Due to their complex composition and morphology, their chemical reactivity is not well understood and new developments of analysis methods are needed. We report the first demonstration of in-flight X-ray based characterizations of freshly emitted soot particles, which is of paramount importance for understanding the role of one of the main anthropogenic particulate contributors to global climate change. Soot particles, produced by a burner for several air-to-fuel ratios, were injected through an aerodynamic lens, focusing them to a region where they interacted with synchrotron radiation. X-ray photoelectron spectroscopy and carbon K-edge near-edge X-ray absorption spectroscopy were performed and compared to those obtained for supported samples. A good agreement is found between these samples, although slight oxidation is observed for supported samples. Our experiments demonstrate that NEXAFS characterization of supported samples provides relevant information on soot composition, with limited effects of contamination or ageing under ambient storage conditions. The highly surface sensitive XPS experiments of airborne soot indicate that the oxidation is different at the surface as compared to the bulk probed by NEXAFS. We also report changes in soot's work function obtained at different combustion conditions.
No MeSH data available.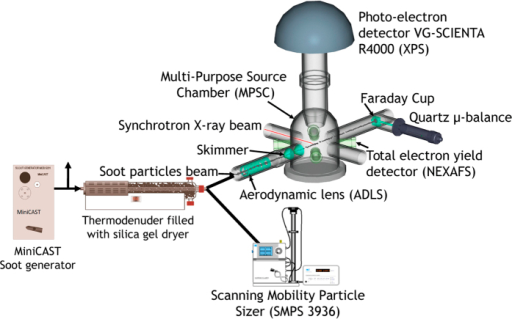 © Copyright Policy - open-access
License
getmorefigures.php?uid=PMC5121651&req=5
Mentions: The experiment is schematized in Fig. 1. The soot particles were produced by a propane diffusion burner (miniCAST Jing Ltd.) and transported through a tube heated to 200 °C to prevent any condensation on the walls. Soot generated by the miniCAST has been widely investigated in terms of size distribution, morphology and chemical composition3536373839, but to the best of our knowledge, no analysis of the surface composition has yet been carried out. The miniCAST is known to satisfactorily mimic the physical and chemical behaviour of many kinds of soot particles, such as those emitted by diesel40 or aircraft engines4142, and the small size of the miniCAST makes it practical to implement on a synchrotron beamline. By changing the fuel-to air ratio of the flame, it is possible to produce soot particles of different size, morphology and organic-to-total carbon ratio (OC/TC). Three "set points" of the burner were studied, named hereafter CAST1, CAST2 and CAST3, corresponding to the operating conditions reported in Table 1. The pre-dilution nitrogen, the quench nitrogen, and the dilution air flow rates were kept constant at 0 L/min, 7.5 L/min and 20 L/min, respectively. Downstream of the miniCAST, a flow rate of 0.6 L/min was injected through a thermodenuder (TSI 3065, temperature up to 400 °C) filled with silica gel to avoid water condensation and to remove water potentially physisorbed on the soot surface. The flow was then divided in two parts, the first being used for real-time size distribution measurements with a Scanning Mobility Particle Sizer (SMPS) (TSI 3936L), while the second part was injected into the XPS/NEXAFS analysis chamber. Microstructure and morphology of the soot particles were also characterized off-line using High Resolution Transmission Electronic Microscopy (HRTEM) and TEM22, on samples collected by filtration onto carbon-coated copper grids (AGAR Scientific). Organic carbon-to-total carbon ratio OC/TC was also determined using a thermo-optical analyser from Sunset Lab43. according to the IMPROVE_A protocol44, on particles sampled on quartz fibre filters (Pall Tissuquartz 2500 QAT-UP, 47 mm in diameter). The filters were baked at 850 °C for 1 hour to desorb any organic content potentially absorbed on these filters during their storage under atmospheric conditions.