Differential neural encoding of sensorimotor and visual body representations
ABSTRACT
---
Sensorimotor processing specifically impacts mental body representations. In particular, deteriorated somatosensory input (as after complete spinal cord injury) increases the relative weight of visual aspects of body parts' representations, leading to aberrancies in how images of body parts are mentally manipulated (e.g. mental rotation). This suggests that a sensorimotor or visual reference frame, respectively, can be relatively dominant in local (hands) versus global (full-body) bodily representations. On this basis, we hypothesized that the recruitment of a specific reference frame could be reflected in the activation of sensorimotor versus visual brain networks. To this aim, we directly compared the brain activity associated with mental rotation of hands versus full-bodies. Mental rotation of hands recruited more strongly the supplementary motor area, premotor cortex, and secondary somatosensory cortex. Conversely, mental rotation of full-bodies determined stronger activity in temporo-occipital regions, including the functionally-localized extrastriate body area. These results support that (1) sensorimotor and visual frames of reference are used to represent the body, (2) two distinct brain networks encode local or global bodily representations, and (3) the extrastriate body area is a multimodal region involved in body processing both at the perceptual and representational level.
No MeSH data available.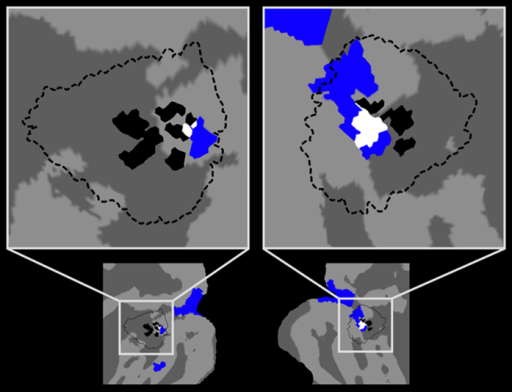 © Copyright Policy - open-access
License
getmorefigures.php?uid=PMC5121642&req=5
Mentions: The opposite contrast, full-bodies > hands, showed the brain areas more strongly activated during mental rotation of full-bodies (with respect to hands), namely the visual network. These clusters were located within the regions identified by the EBA-functional localizer (t > 4; p < 0.05; FDR corrected), and included the middle occipital gyrus (MOG), fusiform gyrus (FG), and EBA in the left hemisphere, as well as the MOG in the right hemisphere. The left-MOG cluster (1977 mm3) included the MOG (70%), the inferior occipital gyrus (11%), the calcarine cortex (8%), and the superior occipital gyrus (4%). This cluster comprised BA 18 (60%) and BA 17 (36%). The left-FG cluster (355 mm3) covered the FG (81%) and the inferior temporal gyrus (18%). This cluster was almost entirely located in BA 37 (99%). The left-EBA cluster (54 mm3), covered the inferior occipital gyrus (58%) and the MOG (26%), and comprised BA19 (81%). The right-MOG cluster (5117 mm3) covered the MOG (38%), inferior occipital gyrus (20%), inferior temporal gyrus (13%), superior occipital gyrus (9%), cuneus (5%), and FG (4%). This cluster comprised BA 18 (35%), BA 19 (34%), BA 17 (15%), and BA 37 (11%). Thus, mental rotation of full-bodies bilaterally activated parts of the inferior occipital gyrus corresponding to the functionally defined EBA (Fig. 4).