Differential neural encoding of sensorimotor and visual body representations
ABSTRACT
---
Sensorimotor processing specifically impacts mental body representations. In particular, deteriorated somatosensory input (as after complete spinal cord injury) increases the relative weight of visual aspects of body parts' representations, leading to aberrancies in how images of body parts are mentally manipulated (e.g. mental rotation). This suggests that a sensorimotor or visual reference frame, respectively, can be relatively dominant in local (hands) versus global (full-body) bodily representations. On this basis, we hypothesized that the recruitment of a specific reference frame could be reflected in the activation of sensorimotor versus visual brain networks. To this aim, we directly compared the brain activity associated with mental rotation of hands versus full-bodies. Mental rotation of hands recruited more strongly the supplementary motor area, premotor cortex, and secondary somatosensory cortex. Conversely, mental rotation of full-bodies determined stronger activity in temporo-occipital regions, including the functionally-localized extrastriate body area. These results support that (1) sensorimotor and visual frames of reference are used to represent the body, (2) two distinct brain networks encode local or global bodily representations, and (3) the extrastriate body area is a multimodal region involved in body processing both at the perceptual and representational level.
No MeSH data available.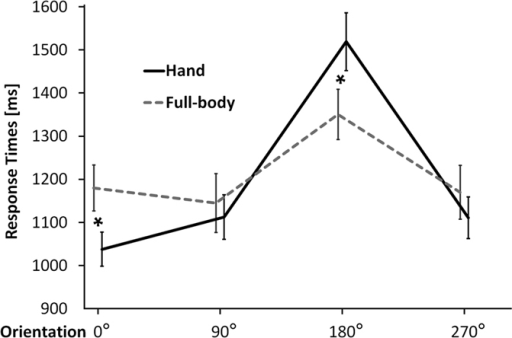 © Copyright Policy - open-access
License
getmorefigures.php?uid=PMC5121642&req=5
Mentions: In accordance with previous studies11, RTs were analyzed by means of a 3-way repeated measures ANOVA with stimulus (hands, full-bodies), laterality (left, right), and orientation (0°, 90°, 180°, and 270°) as main factors. The 2-way interaction between stimulus and orientation was significant [F(3,45) = 11.8; p < 0.05]. For both hands and full-bodies, the RTs for stimuli presented at 180° were longer with respect to all the other orientations (all p < 0.05). Interestingly, the Bonferroni corrected post-hoc comparisons showed that, for images presented at 0°, participants were faster in mentally rotating hands (1037 ms) than full-bodies (1180 ms, p < 0.05). Conversely, for images presented at 180°, participants were significantly faster (p < 0.05) with full-bodies (1350 ms) than hands (1519 ms) (Fig. 2). Thus, in line with previous evidence, the mental rotation function (non-monotonical increase of RTs as a function of stimulus orientation) was more pronounced for hands than full-bodies11. Further behavioral effects generally confirmed previous work and are reported in detail as Supplementary Material (results).