Differential neural encoding of sensorimotor and visual body representations
ABSTRACT
---
Sensorimotor processing specifically impacts mental body representations. In particular, deteriorated somatosensory input (as after complete spinal cord injury) increases the relative weight of visual aspects of body parts' representations, leading to aberrancies in how images of body parts are mentally manipulated (e.g. mental rotation). This suggests that a sensorimotor or visual reference frame, respectively, can be relatively dominant in local (hands) versus global (full-body) bodily representations. On this basis, we hypothesized that the recruitment of a specific reference frame could be reflected in the activation of sensorimotor versus visual brain networks. To this aim, we directly compared the brain activity associated with mental rotation of hands versus full-bodies. Mental rotation of hands recruited more strongly the supplementary motor area, premotor cortex, and secondary somatosensory cortex. Conversely, mental rotation of full-bodies determined stronger activity in temporo-occipital regions, including the functionally-localized extrastriate body area. These results support that (1) sensorimotor and visual frames of reference are used to represent the body, (2) two distinct brain networks encode local or global bodily representations, and (3) the extrastriate body area is a multimodal region involved in body processing both at the perceptual and representational level.
No MeSH data available.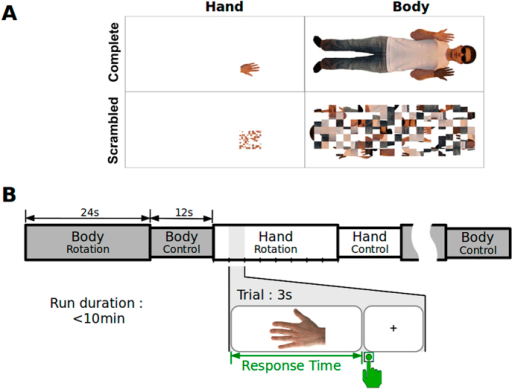 © Copyright Policy - open-access
License
getmorefigures.php?uid=PMC5121642&req=5
Mentions: Different studies investigated the neural underpinnings of mental rotation of either hands or full-bodies, separately. Mental rotation of hands has been associated with activity in prefrontal, precentral, postcentral, and parietal regions151617. Conversely, mental rotation of full-bodies activated mainly temporo-parieto-occipital regions18, including the so-called extrastriate body area (EBA) located in the middle-inferior temporo-occipital gyrus19. This evidence suggests that distinct neural networks are specialized to process local versus global body representations, in that local representations are based on a sensorimotor frame of reference while global representations on a visual one. However, these assumptions must be considered with caution, as none of the previous studies performed a direct and within-subject comparison between the brain activity associated with mental rotation of hands versus full-bodies. Such a direct comparison might reveal the neural counterparts of this behaviorally-based theory. To better clarify the neuro-cognitive mechanisms associated with local and global aspects of body representation, in a within-subject fashion, we recorded brain activity while healthy participants judged the laterality of pictures of hands and full-bodies presented in different orientations from upright (which implies mental rotation). To exclude potential biases due to visual aspects of the images, we extracted the hand image from the full-body one. Thus, the target images (hands for both hand and full-body stimuli) were perfectly comparable in terms of gender, age, race, posture, etc. (Fig. 1A). This approach allowed us to provide objective measurements of both the behavioral and neural responses associated with mental processing of local versus global body representations, with eminent insights onto the interplay between sensorimotor and visual frames of reference involved in body representation.