Quality of Life and Cost-Effectiveness of Radiofrequency Ablation versus Open Surgery for Benign Thyroid Nodules: a retrospective cohort study
ABSTRACT
---
This study is to compare the health-related quality of life (HRQoL) and cost-effectiveness of radiofrequency ablation (RFA) and open thyroidectomy (OT) for benign thyroid nodules (BTNs) treatment. HRQoL and utility were assessed for 404 BTN patients immediately before treatments (RFA:OT = 137:267) and at 6-month visit. A cost-effectiveness analysis was performed from societal perspective in the China context. Resource use (hospitalization, sick leaves) was collected. We used the net monetary benefit approach and computed cost-effectiveness acceptability curves for RFA and OT. Sensitivity analyses of costs of RFA were performed. At 6-month visit, patients treated with RFA had significantly better HRQoL than patients treated with OT on general health (68.5 versus 66.7, P = 0.029), vitality (71.3 versus 67.5, P < 0.001) and mental health (80.9 versus 79.3, P = 0.038). RFA was more effective than OT in terms of quality-adjusted life-years (QALYs; 0.01QALY/patient) but more expensive (US$823/patient). The probability that RFA would be cost effective at a US$50,000/QALY threshold was 15.5% in China, and it would be increased to 88.4% when price of the RFA device was lowered by 30%. RFA exhibited a significant improvement of HRQoL relative to OT, but is unlikely to be cost effective at its current price in short time.
No MeSH data available.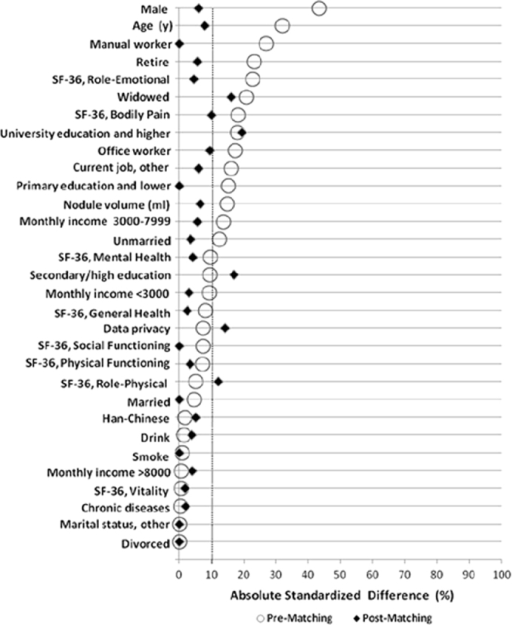 © Copyright Policy - open-access
License
getmorefigures.php?uid=PMC5121639&req=5
Mentions: Because patients were not randomized to undergo RFA versus OT, a propensity score model was used to compare the QoL of patients with BTNs that treated with RFA relative to those who received OT. The propensity score presents the conditional probability of receiving an exposure given a vector of the measured covariates21. In our study, propensity scores for all the patients were estimated by multiple logistic-regression models using the following baseline characteristics as covariates: sex, age, nodule volume, ethnic group, SF-36 dimension scores (PF, RP, BP, GH, VT, SF, RE, MH), smoke, drink, chronic diseases, marital status, monthly income, education lever and current job22. Before matching, the mean propensity score was 0.425 for patients in the RFA group (n = 137) and 0.295 for patients in the OT group (n = 267), with a standardized difference of 80.7% (t-test, P < 0.001). A 1:1 matched study group was created by using the nearest neighbor method (caliber = 0.05). After matching, the mean propensity score was 0.377 for patients of the RFA group (n = 108) and 0.374 for patients of the OT group (n = 108), with a standardized difference of 2% (t-test, P = 0.887). In our study the standardized difference (the difference in means between two groups divided by the pooled standard deviation) was used to assess the balance of all baseline covariates between two groups before and after propensity score matching (Fig. 2). A 20 percent standardized difference between two groups indicates a small difference21, and a 10 percent standardized difference might correspond to the smallest potentially meaningful difference23. Our propensity score model was discriminated effectively and well calibrated between patients who underwent RFA and OT at baseline. Before and after the 1:1 matching, continuous variables were compared by using the independent t-test or Mann-Whitney U test between the two groups. Qualitative variables were analyzed using Chi-square test or Fisher's exact test. Differences in the mean SF-36 scale scores between patients in the two treatment groups and the general population were analyzed with the one sample t-test.