Immune signatures of protective spleen memory CD8 T cells
ABSTRACT
---
Memory CD8 T lymphocyte populations are remarkably heterogeneous and differ in their ability to protect the host. In order to identify the whole range of qualities uniquely associated with protective memory cells we compared the gene expression signatures of two qualities of memory CD8 T cells sharing the same antigenic-specificity: protective (Influenza-induced, Flu-TM) and non-protective (peptide-induced, TIM) spleen memory CD8 T cells. Although Flu-TM and TIM express classical phenotypic memory markers and are polyfunctional, only Flu-TM protects against a lethal viral challenge. Protective memory CD8 T cells express a unique set of genes involved in migration and survival that correlate with their unique capacity to rapidly migrate within the infected lung parenchyma in response to influenza infection. We also enlighten a new set of poised genes expressed by protective cells that is strongly enriched in cytokines and chemokines such as Ccl1, Ccl9 and Gm-csf. CCL1 and GM-CSF genes are also poised in human memory CD8 T cells. These immune signatures are also induced by two other pathogens (vaccinia virus and Listeria monocytogenes). The immune signatures associated with immune protection were identified on circulating cells, i.e. those that are easily accessible for immuno-monitoring and could help predict vaccines efficacy.
No MeSH data available.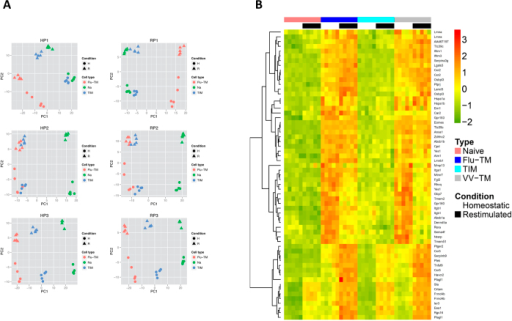 © Copyright Policy - open-access
License
getmorefigures.php?uid=PMC5121635&req=5
Mentions: In order to identify, at the gene expression level, signatures associated with immune protection, we performed a global transcriptional analysis of naive F5, TIM and Flu-TM F5 CD8 T cells. Arrays were performed with RNA from quiescent (Homeostatic condition, H) or NP68 peptide-stimulated (re-stimulated condition, R) CD8 T cells. This last condition allows the capture of poised genes that are more rapidly expressed by memory cells. Differentially expressed gene numbers are given in Supplementary Table S1. The large majority of genes differentially expressed compared to naive cells in TIM are also differentially expressed in Flu-TM, in both homeostatic and re-stimulated conditions (data not shown). We searched for significantly differentially expressed probe sets in a three way discretized comparison (see Methods). Three groups of genes that discriminate naive cells, TIM and Flu-TM from each other were identified: P1 (naive = TIM < Flu-TM), P2 (naive < TIM = Flu-TM) and P3 (naive < TIM < Flu-TM) (Supplementary Table S2). A principal component analysis (Fig. 2A) performed on the different array-samples, using the P1 to P3 gene lists (Supplementary Tables S3–8), illustrates how P3 and P2 genes discriminate naive cells from memory TIM and Flu-TM in contrast to P1 genes that segregates TIM and naive cells apart from Flu-TM. This is true for gene lists obtained when comparing gene expression by CD8 T cells in homeostatic conditions (H) or following re-stimulation (R). To assess the conserved expression of these memory gene signatures, we performed a meta-analysis of 8 datasets comparing naive and memory CD8 T cells gene-expression-profiles in homeostatic conditions (Supplementary Tables S9–11). Memory CD8 T cells, in these models, were generated using 4 different pathogens (vaccinia virus, Listeria monocytogenes, Vesicular Stomatitis Virus and Lymphocytic Choriomeningitis Virus) and 3 different TCR transgenic mice (P14, F5 and OT1). The majority of genes in the P2 and P3 clusters are present in the meta-analysis i.e. are differentially expressed by memory cells compared to naive cells when all these different models are analysed with Rankprod (Table 1 and Supplementary Tables S3–5 and S9). In homeostatic conditions the HP2 and HP3 gene-lists that differentiate memory cells, TIM or Flu-TM, from naive cells contain genes that are classically associated with memory such as Klrc1, Ccl5, Cd44, Cxcr3 (HP3 profile) or Ifng, Asns (HP2 profile) (Table 1). The pattern of expression of some of these genes was validated at RNA level (Supplementary Fig. S1).