MR Vascular Fingerprinting in Stroke and Brain Tumors Models
ABSTRACT
---
In this study, we evaluated an MRI fingerprinting approach (MRvF) designed to provide high-resolution parametric maps of the microvascular architecture (i.e., blood volume fraction, vessel diameter) and function (blood oxygenation) simultaneously. The method was tested in rats (n = 115), divided in 3 models: brain tumors (9 L, C6, F98), permanent stroke, and a control group of healthy animals. We showed that fingerprinting can robustly distinguish between healthy and pathological brain tissues with different behaviors in tumor and stroke models. In particular, fingerprinting revealed that C6 and F98 glioma models have similar signatures while 9 L present a distinct evolution. We also showed that it is possible to improve the results of MRvF and obtain supplemental information by changing the numerical representation of the vascular network. Finally, good agreement was found between MRvF and conventional MR approaches in healthy tissues and in the C6, F98, and permanent stroke models. For the 9 L glioma model, fingerprinting showed blood oxygenation measurements that contradict results obtained with a quantitative BOLD approach. In conclusion, MR vascular fingerprinting seems to be an efficient technique to study microvascular properties in vivo. Multiple technical improvements are feasible and might improve diagnosis and management of brain diseases.
No MeSH data available.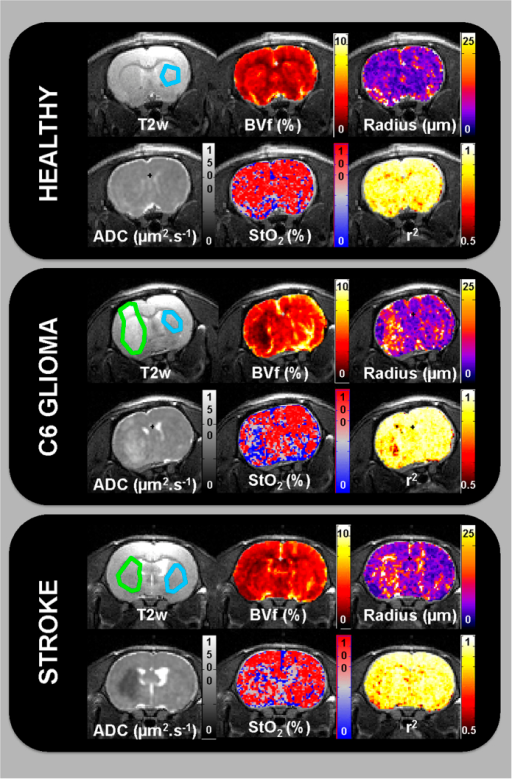 © Copyright Policy - open-access
License
getmorefigures.php?uid=PMC5121626&req=5
Mentions: Figure 2 shows maps obtained in one representative rat of the following groups: control, C6 glioma, and stroke. In addition to the anatomic T2w and diffusion maps, we show the parametric maps of BVf, radius, StO2, and r2 obtained using the fingerprinting approach and Dictionary A. This includes only one value of ADC equal to 800 μm2.s−1, which corresponds to the average value measured in healthy striatum of all rats (n = 115; 800 ± 85 μm2.s−1) and is similar to the dictionary used in the previous human study10. While no prior information or initial guess was given during the matching search, we can observe a clear contrast between white and gray matter in the BVf maps of the control animal. Fine details that correspond to larger blood vessels can also be seen. Radius and tissue oxygen saturation maps are more homogeneous. Similar observations were made in the healthy hemispheres of all rats. In the C6 model, the lesion can be observed as a hyperintense signal in the T2w and ADC maps. The tumor can also clearly be identified in the parametric maps with lower BVf (3.0 ± 0.7 vs 3.5 ± 0.5%, p < 0.05), higher vessel radius (12.7 ± 3.1 vs 7.3 ± 1.1 μm, p < 0.05), and lower StO2 (74.5 ± 4.4 vs 82.5 ± 3.5%, p < 0.05) compared to the healthy striatum. In the permanent stroke model, the lesion cannot be seen in the T2w image but shows lower ADC values. In this part of the brain, the BVf and oxygenation are lower than in the healthy hemisphere (BVf: 2.3 ± 0.3 vs. 3.5 ± 0.5%, p < 0.05; StO2: 75.7 ± 4.9 vs 82.8 ± 3.7%, p < 0.05, respectively) while blood vessels have larger diameters (15.5 ± 4.2 vs 7.3 ± 1.1 μm, p < 0.05). The r2 maps represent the quality of fit between the in vivo fingerprint and the corresponding best entry in the dictionary. It can be observed that these values are high (r2 > 0.8) for almost all regions in these 3 rats, except a small number of voxels in the C6 tumor. This may correspond to a necrotic area that does not contain any blood vessels or a vessel configuration that has not been simulated in Dictionary A.