GapmeR cellular internalization by macropinocytosis induces sequence-specific gene silencing in human primary T-cells
ABSTRACT
---
Post-transcriptional gene silencing holds great promise in discovery research for addressing intricate biological questions and as therapeutics. While various gene silencing approaches, such as siRNA and CRISPR-Cas9 techniques, are available, these cannot be effectively applied to "hard-to-transfect" primary T-lymphocytes. The locked nucleic acid-conjugated chimeric antisense oligonucleotide, called "GapmeR", is an emerging new class of gene silencing molecule. Here, we show that GapmeR internalizes into human primary T-cells through macropinocytosis. Internalized GapmeR molecules can associate with SNX5-positive macropinosomes in T-cells, as detected by super-resolution microscopy. Utilizing the intrinsic self-internalizing capability of GapmeR, we demonstrate significant and specific depletion (>70%) of the expression of 5 different endogenous proteins with varying molecular weights (18 kDa Stathmin, 80 kDa PKCε, 180 kDa CD11a, 220 kDa Talin1 and 450 kDa CG-NAP/AKAP450) in human primary and cultured T-cells. Further functional analysis confirms CG-NAP and Stathmin as regulators of T-cell motility. Thus, in addition to screening, identifying or verifying critical roles of various proteins in T-cell functioning, this study provides novel opportunities to silence individual or multiple genes in a subset of purified human primary T-cells that would be exploited as future therapeutics.
No MeSH data available.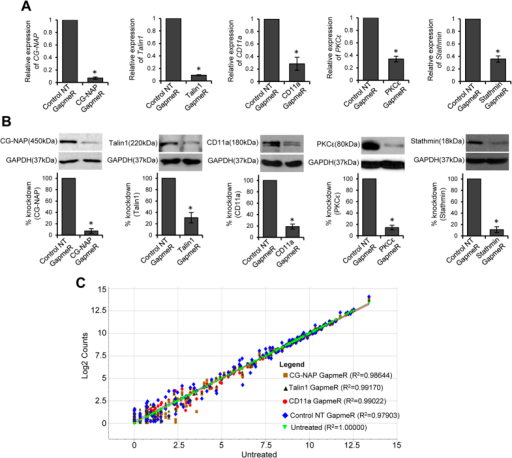 © Copyright Policy - open-access
License
getmorefigures.php?uid=PMC5121623&req=5
Mentions: We next sought to determine if the macropinocytosis of GapmeR in human T-cells could be translated into effective gene silencing. For this purpose, we designed and synthesized a panel of specific GapmeR molecules targeted against 5 randomly selected genes representing a wide range of molecular weight proteins namely (i) a 450 kDa adaptor protein CG-NAP/AKAP450 (also called AKAP9), (ii) a 220 kDa cytoskeletal protein Talin1, (iii) a 180 kDa integrin receptor CD11a, (iv) a 80 kDa serine/threonine kinase PKCε isoform and (v) a highly conserved 18 kDa ubiquitous phosphoprotein Stathmin. Primary T-cells or HuT78 cells were incubated directly with the individual GapmeR molecule to allow cellular uptake for up to 48 h. After the treatment periods, the efficacy of gene silencing was determined by both RT-qPCR as well as Western immunoblotting. Macropinocytosis-mediated cellular delivery of specific GapmeR targeting the candidate proteins CG-NAP, Talin1, CD11a, PKCε or Stathmin (Table 1), effectively and significantly suppressed the expression of corresponding mRNA and proteins with specificity in primary T-cells (Fig. 5A,B, Supplementary Figs S5–S8). Moreover, the expression level of CG-NAP protein remained diminished for up to 12 days in actively proliferating T-cells that have been treated with CG-NAP GapmeR at the time of activation via PHA and IL-2 (Supplementary Fig. S9). These data suggest that the transient gene silencing effect of GapmeR may last for about two weeks in actively proliferating T-cells. The maintenance of a minimum dosage of GapmeR by repeated treatments may be required to suppress gene expression for longer periods of time. Notably, nucleofection of HuT78 T-cells with CG-NAP -targeting GapmeR showed comparable gene silencing that was observed using specific CG-NAP-siRNA (Supplementary Fig. S5B, left panel). Intriguingly, direct incubation (gymnotic delivery) of CG-NAP-GapmeR, but not CG-NAP-siRNA, could substantially knockdown the expression of CG-NAP protein (Supplementary Fig. S5B,C; right panels). The inability of naked siRNA delivered directly to cells to efficiently knockdown target gene could be due to modulations within the endosomes that can alter the efficiency of siRNAs by which they perform gene silencing21.