CHFR negatively regulates SIRT1 activity upon oxidative stress
ABSTRACT
---
SIRT1, the NAD+-dependent protein deacetylase, controls cell-cycle progression and apoptosis by suppressing p53 tumour suppressor. Although SIRT1 is known to be phosphorylated by JNK1 upon oxidative stress and subsequently down-regulated, it still remains elusive how SIRT1 stability and activity are controlled. Here, we have unveiled that CHFR functions as an E3 Ub-ligase of SIRT1, responsible for its proteasomal degradation under oxidative stress conditions. CHFR interacts with and destabilizes SIRT1 by ubiquitylation and subsequent proteolysis. Such CHFR-mediated SIRT1 inhibition leads to the increase of p53 acetylation and its target gene transcription. Notably, CHFR facilitates SIRT1 destabilization when SIRT1 is phosphorylated by JNK1 upon oxidative stress, followed by prominent apoptotic cell death. Meanwhile, JNK inhibitor prevents SIRT1 phosphorylation, leading to elevated SIRT1 protein levels even in the presence of H2O2. Taken together, our results indicate that CHFR plays a crucial role in the cellular stress response pathway by controlling the stability and function of SIRT1.
No MeSH data available.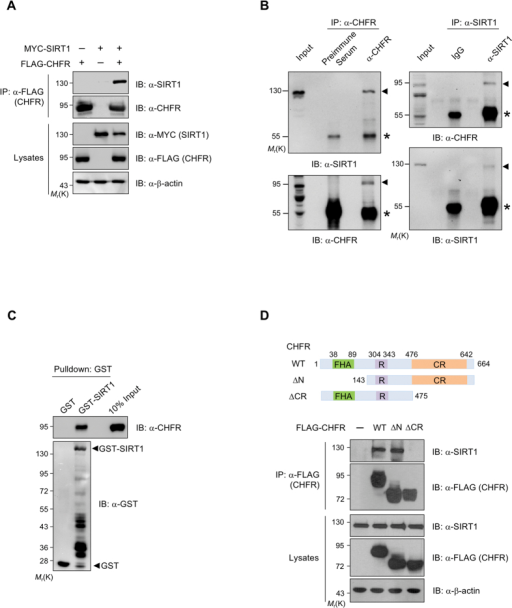 © Copyright Policy - open-access
License
getmorefigures.php?uid=PMC5121620&req=5
Mentions: As CHFR is able to interact and suppress the classical HDAC4, we tested the possibility whether CHFR is also able to regulate another subtype of HDAC, the sirtuin family protein, SIRT1. We first performed a co-immunoprecipitation (IP) assay to determine the interaction between CHFR and SIRT1 in HEK293T cells transiently expressing FLAG-CHFR and MYC-SIRT1. When SIRT1 was immunoprecipitated with anti-FLAG M2 affinity resin, CHFR was readily detectable in the IP eluates, indicating that SIRT1 and CHFR interact with each other in vivo (Fig. 1A). It is worthy of note that SIRT1 protein levels were lower when SIRT1 was co-expressed with CHFR compared to when SIRT1 alone was transfected (Fig. 1A, lanes 2 and 3), suggesting that CHFR might be responsible for this SIRT1 destabilization. We also examined whether endogenous CHFR and SIRT1 could associate with each other. Since CHFR is often epigenetically silenced by DNA hypermethylation in most immortalized cancer cells27, we have generated CHFR-stable cells, which are identical except CHFR expression compared to its parental cancer cells, to mimic CHFR activation. SIRT1 was present in the immunoprecipitated eluates with anti-CHFR antibody and similarly, CHFR was present in anti-SIRT1 IP eluates, indicating that CHFR and SIRT1 bind together in HeLa-CHFR cells (Fig. 1B). The interaction between SIRT1 and CHFR was further validated by a GST pull-down assay using GST-SIRT1 purified from Escherichia coli and His-CHFR purified from Sf9 cells. His-CHFR protein was pulled down together with GST-SIRT1, but not with GST alone (Fig. 1C), indicating that the interaction between SIRT1 and CHFR is rather direct. Next, we mapped the region of CHFR required for the interaction with SIRT1. FLAG-tagged CHFR truncated mutants (ΔN, amino acids (a.a.) 143–664; ΔCR, a.a 1–475) were generated (Fig. 1D, upper panel) and tested the degree of interaction with SIRT1 in HEK293T cells in the presence of proteasome inhibitor MG132. SIRT1 was present in the IP eluates from CHFR wild-type (WT) and CHFR-ΔN, but not from CHFR-ΔCR, suggesting that the cysteine rich (CR; a.a 476–664) domain of CHFR is critical for the interaction with SIRT1 (Fig. 1D, lower panel). Taken together, CHFR binds to SIRT1 directly through its CR domain.