Structural and functional probing of PorZ, an essential bacterial surface component of the type-IX secretion system of human oral-microbiomic Porphyromonas gingivalis .
ABSTRACT
---
Porphyromonas gingivalis is a member of the human oral microbiome abundant in dysbiosis and implicated in the pathogenesis of periodontal (gum) disease. It employs a newly described type-IX secretion system (T9SS) for secretion of virulence factors. Cargo proteins destined for secretion through T9SS carry a recognition signal in the conserved C-terminal domain (CTD), which is removed by sortase PorU during translocation. Here, we identified a novel component of T9SS, PorZ, which is essential for surface exposure of PorU and posttranslational modification of T9SS cargo proteins. These include maturation of enzyme precursors, CTD removal and attachment of anionic lipopolysaccharide for anchorage in the outer membrane. The crystal structure of PorZ revealed two β-propeller domains and a C-terminal β-sandwich domain, which conforms to the canonical CTD architecture. We further documented that PorZ is itself transported to the cell surface via T9SS as a full-length protein with its CTD intact, independently of the presence or activity of PorU. Taken together, our results shed light on the architecture and possible function of a novel component of the T9SS. Knowledge of how T9SS operates will contribute to our understanding of protein secretion as part of host-microbiome interactions by dysbiotic members of the human oral cavity.
No MeSH data available.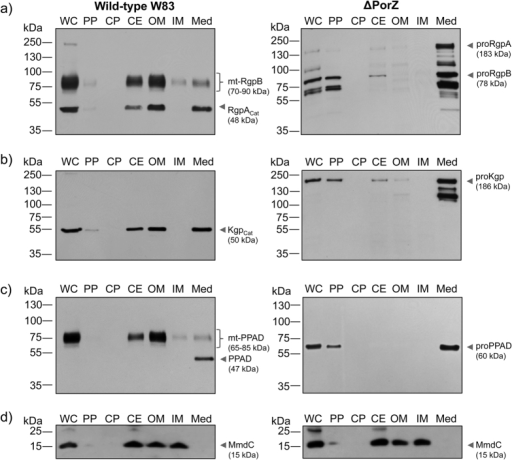 © Copyright Policy - open-access
License
getmorefigures.php?uid=PMC5121618&req=5
Mentions: To further investigate the fate of non-secreted T9SS cargos in the absence of PorZ, we performed Western blot analysis of distinct subcellular fractions to detect gingipains (Fig. 2a,b), PPAD (Fig. 2c), and the biotin-containing 15-kDa biotin carboxyl carrier protein (AccB alias MmdC or PG1609) as an IM marker (Fig. 2d; see also ref. 32). The latter analysis revealed that the OM fractions obtained from the wild type and the mutant were contaminated with the IM. This is in contrast to undetectable contamination of the IM fraction with OM components, as indicated by the absence of gingipains and PPAD in the IM fraction. In the wild type, gingipains and PPAD were secreted onto the cell surface with CTD removal and proteolytic maturation of their precursors, which led to detectable activity in intact cells34. In ΔPorZ, they were not processed to the mature forms but rather accumulated as precursors in the periplasmic fraction and in clarified culture media (Fig. 2a–c). Additionally, partially processed gingipain precursors were found with anti-gingipain antibodies. Auto-processing of gingipains has been described in heterologously-overexpressed recombinant proteinases35. Moreover, the presence of considerable amounts of PPAD and gingipain precursors in the concentrated growth medium suggested that ΔPorZ had a "leaky" OM architecture. This contention was supported by peptide mass fingerprinting of proteins from the growth medium resolved on SDS-PAGE (Supplementary Fig. S2). Although we found in the medium several proteins normally located in the periplasm, including prolyl oligopeptidase family proteins (PG0727 and PG1004), a MEROPS-M16-family peptidase (PG0196), thioredoxin (PG0275), HtrA protease/chaperone (PG0449) and TPR-domain protein (PG0449), CTD-bearing proteins were predominant. Indeed, of the 32 known T9SS cargos of P. gingivalis28, 12 were found in high abundance and apparently with intact CTDs in the growth medium of ΔPorZ, as indicated by high Mascot scores (Supplementary Table S1). These proteins included PorU (alias PG0026), carboxypeptidase D (alias Cpg70 or PG0232), PPAD (PG1424), internalin-like protein PG0350, putative hemagglutinin PG0411, immunoreactive 47-kDa antigen PG97 (PG1374), immunoreactive 46-kDa antigen PG99 (PG1798), heme-binding protein 30 (PG0616), and proteins PG0495, PG0654, PG1030, and PG2216. In addition, five other potential T9SS cargos were found in the medium, but none of the detected peptides corresponded to their CTDs. When the same proteins were detectable in the growth medium of the wild-type strain, they had much lower Mascot scores and no peptides corresponding to their respective CTDs. This "leaky" OM phenotype, which leads to release of non-cleaved CTDs from CTD-cargo proteins, is similar to that reported by Taguchi et al.36. These authors reported that the chaperone Skp-like protein (PGN_0300) is required for OM insertion of PorU sortase, which in turn is necessary for CTD cleavage from CTD-cargo proteins. Consistently, deletion of PGN_0300 resulted in failure of PorU insertion and, thus, T9SS function36.