Disturbed phospholipid homeostasis in endoplasmic reticulum initiates tri- o -cresyl phosphate-induced delayed neurotoxicity
ABSTRACT
---
Tri-o-cresyl phosphate (TOCP) is a widely used organophosphorus compound, which can cause a neurodegenerative disorder, i.e., organophosphate-induced delayed neurotoxicity (OPIDN). The biochemical events in the initiation of OPIDN were not fully understood except for the essential inhibition of neuropathy target esterase (NTE). NTE, located in endoplasmic reticulum (ER), catalyzes the deacylation of phosphatidylcholine (PC) and lysophosphatidylcholine (LPC) to glycerophosphocholine (GPC). The present study aims to study the changes of ER phospholipids profile as well as levels of important intermediates of phospholipid synthesis such as diacylglycerol (DAG) and phosphatidic acid (PA) at the initiation stage of OPIDN. Hens are the most commonly used animal models of OPIDN. The spinal cord phospholipidomic profiles of hens treated by TOCP were studied by using HPLC-MS-MS. The results revealed that TOCP induced an increase of PC, LPC, and sphingomyelin (SM) levels and a decrease of GPC, phosphatidylethanolamine (PE), lysophosphatidylethanolamine (LPE), lysophosphatidylserine (LPS), phosphatidylglycerol (PG), and phosphatidylinositol (PI) levels., Levels of DAG and PA were also decreased. Pretreatment with phenylmethylsulfonyl fluoride (PMSF) 24 h before TOCP administration prevented OPIDN and restored the TOCP-induced changes of phospholipids except GPC. Thus, the disruption of ER phospholipid homeostasis may contribute to the initiation of organophosphate-induced delayed neurotoxicity.
No MeSH data available.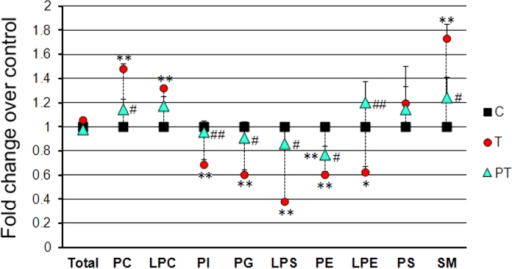 © Copyright Policy - open-access
License
getmorefigures.php?uid=PMC5121615&req=5
Mentions: Furthermore, the total phospholipids in each individual lipid class in these three groups were compared. Figure 3 showed that compared to control, TOCP induced a prominent increase of PC, LPC, and SM and an obvious decrease of PE, PI, PG, LPE, and LPS. PS levels did not change after TOCP administration. Interestingly, total phospholipids levels were not altered by TOCP treatment. Surprisingly, although NTE inhibition by TOCP treatment was similar by PMSF pretreatment, it reversed the increase of PC, LPC, and SM as well as the decrease of PE, PG, LPS, PI, and LPE induced by TOCP.