Lower Vitamin D Metabolites Levels Were Associated With Increased Coronary Artery Diseases in Type 2 Diabetes Patients in India
ABSTRACT
---
The purpose of the present study was to measure six vitamin D metabolites and to find the association between vitamin D deficiency and coronary artery diseases in diabetes (T2DM_CAD). Four groups [control (n = 50), type 2 diabetes (T2DM, n = 71), coronary artery diseases (CAD, n = 28), T2DM_CAD (n = 38)] of total 187 subjects were included in the study. Six vitamin D metabolites (D2, D3, 25(OH)D2, 25(OH)D3, 1,25(OH)2D2, 1,25(OH)2D3), total 25(OH)D and total 1,25(OH)2D were measured by UPLC/APCI/HRMS method in these subjects. Although all the vitamin D metabolites were significantly decreased in T2DM_CAD as compared to both control and T2DM subjects (p < 0.05), only two metabolites i.e., 25(OH)D3 and total 25(OH)D were significantly (p < 0.05) decreased in the T2DM subjects as compared with the control subjects (p < 0.05). Vitamin D3, 1,25(OH)2D2, 25(OH)D, and 1,25(OH)2D levels were significantly decreased in T2DM_CAD subjects as compared with CAD subjects (p < 0.05). Further, multiple logistic regression analysis revealed that total 25(OH)D and total 1,25(OH)2D can be used to predict T2DM (OR 0.82.95% CI 0.68–0.99; p = 0.0208) and T2DM with CAD (OR 0.460, 95% CI 0.242–0.874; p = 0.0177), respectively. Our data concludes that lower concentration of 1,25(OH)2D is associated with type 2 diabetes coexisting with coronary artery diseases in South Indian subjects.
No MeSH data available.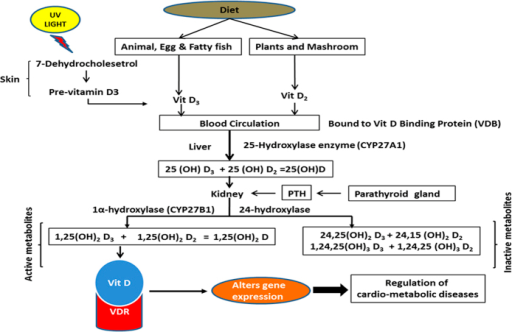 © Copyright Policy - open-access
License
getmorefigures.php?uid=PMC5121614&req=5
Mentions: Vitamin D is a secosteroid that exists in two forms i.e., ergocalciferol (D2) and cholecalciferol (D3). Ergocalciferol (D2) is synthesized from the vegetable sources while cholecalciferol (D3) is either synthesized from the epidermis by exposure to the UV radiation (sunlight) or available from oily fish supplementation. Vitamin D (D2 and D3) is converted into its active metabolite 1,25(OH)2D by the two hydroxylation steps. Vitamin D (D2 and D3) are hydroxylated by the liver and converted into 25 hydroxy D [25(OH)D2 and 25(OH)D3]. These two were further hydroxylated into two active metabolites, 1,25(OH)2D [1,25(OH)2D2 and 1,25(OH)2D3] in the kidney. These active metabolites bind with the vitamin D receptor and exert its function5 (Fig. 1). Vitamin D receptors are present in many cells like pancreatic β cells, cardiomyocytes, endothelial cells and vascular smooth muscle cells. Vitamin D plays pivotal role in the bone and mineral metabolism. Vitamin D deficiency is a common health problem worldwide and is the cause for osteoporosis and osteomalacia, rickets and other bone related disorders. In the last decade, researchers observed that lower vitamin D levels were associated with metabolic diseases like type 1 diabetes, obesity, insulin resistance, cardiovascular diseases, and cancer678. Many studies reported that Indian subjects are more prone to vitamin D deficiency despite the availability of abundant sunshine throughout the year in many parts of India91011121314151617. Although, there are some studies from Indian population but none of these studies looked into the association of vitamin D metabolites with coronary artery diseases coexisting with type 2 diabetes. For last few decades more than 50 metabolites of vitamin D have been described18. Among them very few have been quantified in blood.