Cycles of circadian illuminance are sufficient to entrain and maintain circadian locomotor rhythms in Drosophila
ABSTRACT
---
Light at night disrupts the circadian clock and causes serious health problems in the modern world. Here, we show that newly developed four-package light-emitting diodes (LEDs) can provide harmless lighting at night. To quantify the effects of light on the circadian clock, we employed the concept of circadian illuminance (CIL). CIL represents the amount of light weighted toward the wavelengths to which the circadian clock is most sensitive, whereas visual illuminance (VIL) represents the total amount of visible light. Exposure to 12 h:12 h cycles of white LED light with high and low CIL values but a constant VIL value (conditions hereafter referred to as CH/CL) can entrain behavioral and molecular circadian rhythms in flies. Moreover, flies re-entrain to phase shift in the CH/CL cycle. Core-clock proteins are required for the rhythmic behaviors seen with this LED lighting scheme. Taken together, this study provides a guide for designing healthful white LED lights for use at night, and proposes the use of the CIL value for estimating the harmful effects of any light source on organismal health.
No MeSH data available.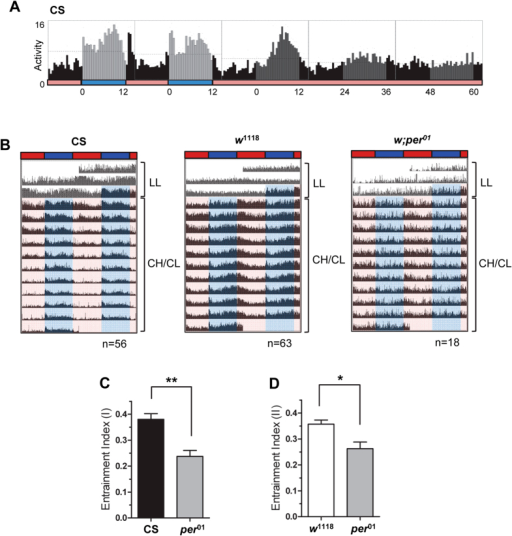 © Copyright Policy - open-access
License
getmorefigures.php?uid=PMC5121609&req=5
Mentions: Our finding that CH/CL cycles can generate circadian rhythmicity is surprising because the photoreceptor encoded by cry has exquisite sensitivity to light51. Flies can be entrained to light levels as low as 0.03 nW/cm2, which is much lower than the brightness of either CH or CL light, 0.113 mW/cm2 and 0.114 mW/cm2, respectively. However, this sensitivity value is in terms of overall light intensity (similar to VIL) and not the limit of sensitivity of CRY to blue-light intensity, at least in terms of CIL. Thus, we wondered if the CIL value of CL light is below the limit of blue-light sensitivity of CRY, and therefore, may mimic true darkness in the circadian sense in our CH/CL cycle conditions. To test this, CS flies were first entrained to CH/CL conditions for 7 days and then exposed to constant CL conditions for 7 days (Fig. 4A). If CL light was perceived as complete darkness in the circadian sense, persistent rhythmicity would be expected under constant CL condition following CH/CL cycling, as it is under DD conditions following LD cycles. However, CS flies showed dampened locomotor activity on day 2 of constant CL and completely arrhythmic locomotor activity beginning on day 3 of constant CL condition. This dampening was also observed in the molecular rhythm of PER obtained from head extracts on day 2 of constant CL condition (Fig. S2). Taking these data together, we conclude that the CL condition per se does not function as darkness even in the circadian sense. If that is the case, then how do CH/CL cycle produces robust locomotor activity rhythm anticipating times of the day? Our data raise the possibility that the difference, not the absolute value, in blue-light intensity might be critical for circadian entrainment. Because CH has a stronger effect on CRY degradation than CL (Fig. 1H), the oscillation in CRY level resulting from CH/CL condition might be sufficient to transmit entraining cues to the clock machinery and drive robust rhythmicity in flies. To further support this idea, we doubled the VIL and CIL values for CH and CL lights. Again, VIL values for CH and CL remained similar, 1570 lx and 1470 lx, respectively. The CIL values were increased from 850 blx to 1734 blx for CH (10,000 K) and from 179 blx to 338 blx for CL (2,000 K). Although the absolute level of CIL increased throughout the CH/CL cycle, flies still show a circadian behavioral rhythm in this new CH/CL cycle (Fig. 4B). CS and w1118 flies showed higher EI values than those of per01 flies (Fig. 4C and D). It is surprising that exposure to bright light, such as new CL (1470 lx, 338 blx) during subjective night does not disturb the circadian behavior if flies are exposed to light that is brighter (1570 lx, 1734 blx) in terms of CIL value, during the subjective day. From our observations, we suggest that the difference in CIL, not the absolute level, is important to drive circadian rhythm. This observation raises the possibility that CL light can be used as a harmless light source in combination with CH light during the day.